Sprinkler System Repair in Estero, Florida
What would you be willing to pay for a full-scale, comprehensive sprinkler system inspection? An inspection that's so in-depth that every single inefficiency with your sprinkler system could be diagnosed and you would be provided with a written estimate of the necessary repairs? What if we told you this comprehensive inspection is 100% FREE?
If you're uncertain if your sprinkler system is operating correctly because you water your lawn at night, and are seeing brown spots or soggy patches in your yard call Conserva Irrigation of Southwest Florida. It literally costs you nothing to have your sprinkler system inspected; however, if you're watering your lawn at an incorrect time during a watering-restriction time frame, then it absolutely will cost you in steep fines to the city or county.
Conserva Irrigation of Southwest Florida offers a completely free sprinkler system inspection to everyone! Call today to schedule yours at (941) 208-1449!
Common irrigation system repair problems in Estero, FL
If you're noticing or need help with any of the following items, you can rest easy knowing Conserva Irrigation will handle it:
System won't turn on
Broken sprinkler heads
Sprinkler system leaks
Dry grass
Grass is too wet
Weak/clogged heads
Mold/mushrooms growing in your lawn from over-watering
Watering while it's raining/sensor not working
Zone won't turn on
System won't shut off
Zone won't shut off
Upgrade controller
Needs changes or repair after landscape changes
Dry spots dotting the side of a long driveway
Sprinkler controller programming
Spraying the house or road/adjust heads
Sprinkler system tune-up/inspection
Vacuum breaker leaking
Vacuum breaker testing
At Conserva Irrigation of Southwest Florida, we're certified irrigation professionals that are licensed with the state of Florida. You can rest assured that when you hire us to perform a job, we'll ensure that it's done correctly and according to all local and state codes and ordinances. Make sure you perform your homework before hiring just any irrigation repair company in Estero, FL. At Conserva Irrigation of Southwest Florida, we have numerous references, from both the residential and commercial sector – check them out here!
Sprinkler System Repair in Estero FL – Correctly Diagnosing the Problem
As mentioned before, we offer a comprehensive sprinkler system repair at absolutely no charge to you. The best part about the inspection is the thoroughness with which our irrigation technicians will inspect your system. Correctly diagnosing the root problem of your irrigation system is extremely important. By diagnosing the root issue, we'll be able to correct that issues, then work our way down to fixing all the secondary issues that occurred as a result of the primary issue. Essentially, our thorough inspection of your system will ensure that we correctly diagnose and repair your sprinkler system the first time we arrive at your home.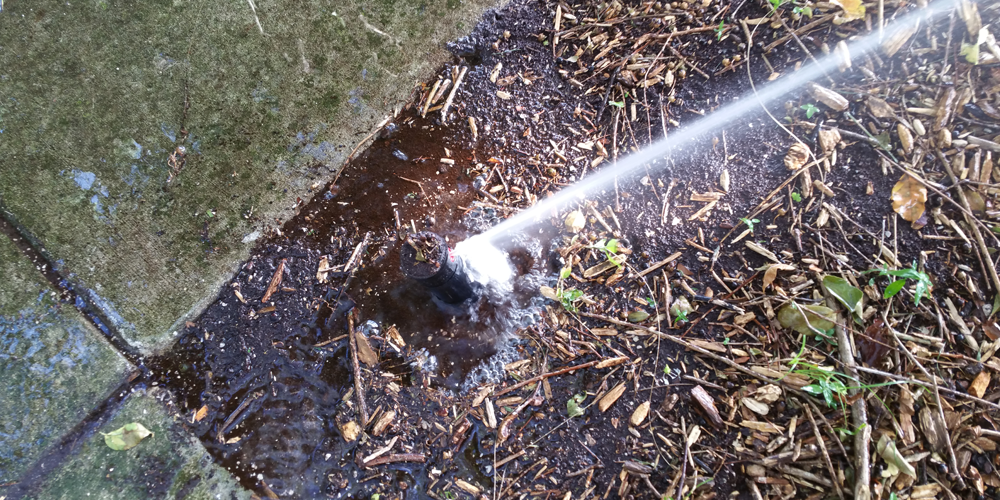 Sprinkler System Repair in Estero, Florida — What You'll Get
At Conserva Irrigation of Southwest Florida, we operate on three core principles – professionalism, innovation and responsibility. It's what we wake up with and what we go to bed with. While this may sound silly, it's precisely what allows us to provide the best irrigation system repair services in Estero, FL, and surrounding areas in southwest Florida. Whether we're referring to the staff member that you first speak to on the phone, or the irrigation technician that explains all the issues with your sprinkler system, you'll be met with the utmost in professionalism.
Additionally, we utilize only the best Toro® irrigation technology when we make repairs, replace sprinkler heads, upgrade systems or install new sprinkler systems. Toro offers the top-of-the-line in smart irrigation technology that's specifically designed and manufactured with water conservation in mind. That's why we've partnered up with them – water-efficient irrigation systems are, unfortunately, the exception to the rule. It's our goal to make them the norm, rather than an outlier, and innovative Toro® irrigation technology allows us to do so.
If you're having issues with your Estero, FL sprinkler system or you would like a free estimate on the cost of a brand new irrigation system, give us a call. With our free comprehensive system inspection we can make sure your irrigation system is running at peak efficiency.
Give Conserva Irrigation of Southwest Florida a call today at (941) 208-1449 and we'll call you. No matter how we get in touch, we look forward to helping you!