Minnetonka Irrigation Repair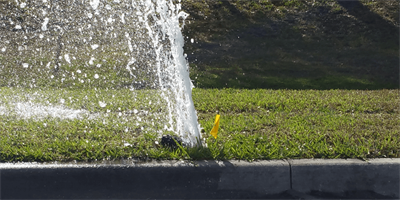 Sometimes there's an obvious problem with your irrigation system — it could be shooting water straight up in the air like Old Faithful, or maybe you've got some unplanned ponds in your yard that have formed around a broken sprinkler head. Other times, it's not so noticeable that your sprinkler system needs repairs. That's why it's necessary to have your Minnetonka sprinkler system inspected by a professional. You may have problems with your system and not even know it. At Conserva Irrigation of The Twin Cities, we offer a free, no-obligation comprehensive system inspection ($150 value) with flat-rate pricing on any repairs we recommend. We'll uncover the exact cause of your sprinkler system problems (if there are any) and will fix them right there and then on the same visit.
Not only will we repair any issues with your sprinkler system, we'll also show you how to save both water and money while maintaining as healthy and lush of a green lawn all season long. Water conservation is at the heart of our company, and through our use of smart irrigation technology with our partnership with Toro®, you can reduce your sprinkler system's water usage by up to 60%. This in turn reduces your water bill drastically.
Conserva Irrigation is your sprinkler system expert, so call us today at (763) 401-7313 to find out why we're the most trusted name in Minnetonka irrigation repair.
Prompt, professional service
No matter how major or minor your Minnetonka irrigation repair needs may be, it will be done by one of our well-trained, certified irrigation technicians (CIT). We keep our trucks fully stocked with every type of tool and sprinkler part possible so that when we discover a needed repair in your irrigation system, we can do it right then and there. There's rarely a need to schedule a second visit. Even if it's just replacing a sprinkler head, we always use professional grade Toro components, so you can be sure they're built to last. Since we're fully prepared to fix things on the spot, there's rarely a need to schedule a second visit for your sprinkler repair in Minnetonka.
Saving you money while saving water
Every repair we make to your irrigation system is done with conservation in mind. If we can repair it while making it use less water and energy while still meeting your goals for a beautiful lawn, we'll definitely do it. That's why we call it "smart irrigation." Through the use of smart irrigation technology, you can reduce your sprinkler system's water usage by up to 60%. With our free inspection, we'll also give you a Systems Efficiency Score between 1-100 so that you can see where your system has room for improvements and upgrades that will further increase its efficiency.
Call Conserva Irrigation of The Twin Cities at (763) 401-7313 or email us to schedule your complimentary sprinkler inspection. We look forward to working with you!