Minneapolis Sprinkler Winterization Services
Winterize Your Irrigation System for the Colder Minneapolis Months
Conserva Irrigation is Minneapolis' top choice for irrigation winterization and sprinkler blowout services. We are your partner in preparing your landscape and lawn sprinkler system for the colder months. We do this by adjusting your sprinkler system's settings, performing a sprinkler blowout, and resolving any issues at hand. A fall sprinkler system winterization is vital to avoiding costly freeze damage that could occur during the frigid Minnesota winter.
For a free irrigation system inspection, give us a call at (763) 401-7313 or contact us online!
During your blowout sprinkler service, our Minneapolis certified irrigation technicians will:
Turn off the water supply to your sprinkler system
Evacuate all water from your sprinkler system
Turn off the controller to the sprinkler system
Assess the condition of your sprinkler system
Create a Winterization Report
Leave an estimate for repairs
Answer all of your questions
Inform you about our No Freeze Damage Guarantee™
Our team knows efficient irrigation systems better than anyone else and understands the harsh Minneapolis winters. With us on the job, you can enjoy a beautiful, healthy lawn all year long.
2021 Early Bird Special - $85. Call before October 4th to redeem. $95 after the 4th.
No Freeze Damage Guarantee™
Winter is rough on irrigation systems. Pipes can freeze and burst if they're not prepared for the cold. Regardless of who installed your system, our team of experts can provide a professional winterization service at a flat rate, which can save you thousands of dollars in costly repairs.
And Conserva guarantees the proper winterization of your system. Our sprinkler blowout process is the best way to winterize your system and prevent your pipes from freezing. In the rare event that damage does occur after we winterize your system, we'll repair the damaged components at no cost to you.
Our guarantee excludes coverage for situations in which:
The irrigation system was not winterized prior to freezing temperatures
The vacuum breaker assembly was not built correctly
A zone would not operate properly, nor could the valve be located
Why Choose Conserva for Your Minneapolis Irrigation Blowout?
While many Minneapolis irrigation contractors will run some air through the lines until the next closest head stops releasing water, we spend time on every single head, making sure your entire system is taken care of professionally. In addition to protecting your system from freeze damage over the winter, this process has additional benefits:
Water seeps down, air bubbles up
It's quite possible that you could have lateral line leaks, a hole in your drip irrigation lines, or leaking seals on the bottom side of your sprinkler heads and never know it.
Here's why.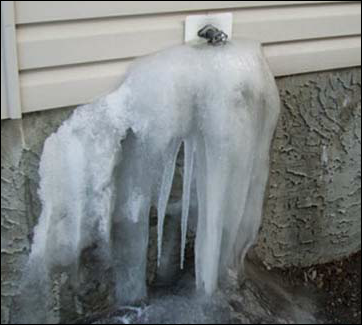 Water drips downward, so if part of your system is losing water, you may never know. It's easy to see a broken head, but you may never notice leaks in your irrigation lines. These leaks could have been caused by animals chewing on the line or from a quick slice from a gardening tool. Not only could you be literally dumping water this season, think about all the seasons to come.
When Conserva Irrigation winterizes your system, controlled compressed air is used to evacuate the water from the water lines. Hence, the moniker "blow out." At the same time, our certified technician observes the process zone by zone, head by head, and takes notes accordingly.
If we see air bubbling up, we know we've found a problem.
Before we leave, we provide you with a transparent flat-rate quote for fixing any leaks or holes in your system. If you want to wait until the next season to make the fixes, you will know exactly what to budget. Be assured that when you call next year, our office staff will have the same estimate in front of them when the appointment is set. And when our technician arrives, they too will have access to the agreed-upon repairs – ensuring that you have the best, most efficient irrigation system that utilizes only the right amount of water at the right times for the right irrigation.
Over 46 million residential sprinkler systems need to be winterized in the U.S. Here at Conserva Irrigation of the Twin Cities; our goal is to provide the best winterization for residents in Minneapolis and the surrounding areas.
We winterize all systems in Minneapolis
No matter who installed your system or which brand it may be, we at Conserva want to winterize it for you. Do you have an older system that might need upgrading in the next year or two? That's the best reason to have us winterize your system. We will provide a priced list of what needs updating on your system. You determine when you want to make those upgrades. We want to help you plan for the most efficient winterized sprinkler system.
Contact us at (763) 401-7313 to schedule your winterization service today!