Raleigh Sprinkler Repair
Local Sprinkler Repair Professionals Near You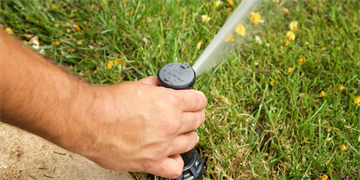 When's the last time you observed how efficiently your Raleigh sprinkler system is operating? Are you like most people, where you have your sprinkler system running at night? If so, you will definitely benefit from a free sprinkler system inspection. At Conserva Irrigation of the Triangle, we offer a 100% free sprinkler system inspection that will show you which areas of your lawn irrigation system are operating inefficiently or don't work at all. By finding these trouble areas, we'll be able to recommend changes, sprinkler system repairs, and upgrades to your system that can help you reduce your water usage for irrigation purposes by up to 60%.
Get your free sprinkler system inspection today by calling us at (919) 689-4551 or contacting us online!
Through smart irrigation technology, your home's irrigation system will not only utilize less water but will ensure that your lawn is lush and green all year long. While your current system may seem to be working correctly, it truly takes a professional to diagnose coverage issues and leaking water lines. After all, you've more then likely seen pooling water from an area that seems inexplicable. This is most often a result of a break or crack in one of your irrigation lines. These leaks can result in thousands of gallons of wasted water over the course of a season – this is especially true here in Raleigh with our hot summers. In addition to wasting water, and money, these water leaks can often damage or destroy your lawn. So, where you see brown spots and think that an area isn't getting enough water, it may be, in fact, getting too much water. That's why it's important to call a landscape irrigation repair specialist – so you can have the issue correctly diagnosed and corrected.
You May Need Sprinkler Repair
Through our Comprehensive system check-up, we'll be able to point out which areas of your landscape irrigation are in need of immediate sprinkler repair and what can wait. Additionally, we'll be able to show you how integrating a rain sensor with a Toro EVOLUTION controller can help you ensure that your lawn is only watered when it's needed. How many times have you driven down the road and seen someone's sprinkler system firing off when it's raining? Don't be that guy or gal. Call the sprinkler repair experts at Conserva Irrigation of Conserva Irrigation of the Triangle.
Frequently Asked Questions
How long does it take to water 1 inch of grass?
Depending on your system that is set up and the size of your lawn, usually about 20-30 minutes.
What time should I water my lawn?
A General rule of thumb is, morning before the sunrises. This gives the water time to penetrate and hydrate, but the morning sun evaporates exceed to stop pathogens from infiltrating your grass.
How often do I need to water my grass?
The frequency of you watering your grass is in part be determined by what your city's ordinances will allow. But to maintain a healthy lawn we generally suggest 2-3 times a week for 20-30 minutes.