Sprinkler Repairs in Lovettsville
Are You Having Any of These Issues?
System won't turn on
Broken sprinkler heads
Sprinkler system leaks
Dry grass
Grass is too wet
Weak/clogged heads
Zone won't turn on
System won't shut off
Zone won't shut off
Upgrade controller
Sprinkler controller programming
Spraying the house or road/adjust heads
Sprinkler system tune-up/inspection
Dry spots dotting the side of a long driveway
Vacuum breaker leaking
Vacuum breaker testing
Start-up/reactivation/summerization
Winterization
Mold/mushrooms growing in your lawn from over-watering
Watering while it's raining/sensor not working
Needs changes or repair after Landscape changes
If these are issues that occur often in your yard, then it's definitely time to call in the professionals at Conserva Irrigation. You have an irrigation system because you care about the health of your lawn and landscape. So, whether your lawn is too wet or not wet enough, we can help make necessary repairs and adjustments on your sprinkler system.
Diagnosing the Problem
From broken sprinkler heads to major line leaks our trained and experienced technician will arrive ready to diagnose and fix your irrigation issues. We will complete a sprinkler inspection that will yield a System Efficiency Score that will alert our technician to the shape your current system is in. During the inspection, we will run a quick test of each zone examining sprinkler heads, water lines and technology for signs of potential issues. We make sure to stock our vans so no matter the issue we are able to repair it on-the-spot without making you schedule another appointment.
What you get with Conserva Irrigation
Professionalism
We hire driven individuals that are Certified Irrigation Technicians' (CIT) and make sure they are well trained and experienced in irrigation. From our visibly branded van to our thorough reporting we promise that you will be working with a professional irrigation team.
Innovation
No matter the repair we make on your irrigation system we always use professional grade Toro products that you won't find at a big box retailer. Toro is not only regarded as the industry leader in sprinkler system parts but they are also continuously improving their innovative product line. The goal Conserva Irrigation and Toro have in common are to improve the efficiency of your residential irrigation system to conserve water.
Responsibility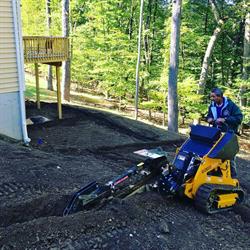 Last but certainly not least, Conserva Irrigation of Northern Virginia cares deeply about water conservation. It is something that affects each and every one of us both present and in the future. A broken sprinkler head can leak up to 18-45 gallons of water per zone each time you run your system. That can be over 20,000 gallons of water over the course of one season. We offer a free 12-point lawn analysis that will help identify how and where your sprinkler system needs improvement.