North Atlanta Irrigation Installation
Conserva Irrigation of North Atlanta is your best choice for residential and commercial lawn sprinkler system installation in all of North Atlanta.

A healthy, green lawn and landscape is best accomplished with a smart sprinkler system that will run automatically, using only the amount of water needed. Too often, garden sprinklers are left on too long, overwatering some areas and underwatering others. If you're still hand watering, pulling out hoses, and adjusting garden sprinklers, it is time to give us a call.

Vacation? Travel for work? Don't worry. Your lawn and garden will stay lush and green while you are away. With Conserva Irrigation of North Atlanta, we'll design a smart sprinkler system you can set and forget.

What You Should Know and Most Common Questions

Below we explain how we can help you with a new sprinkler system or a renewal of your old irrigation network. If you live in North Atlanta but have some questions, you are at the right place to get the right answers. How much will it cost, how can I find a good competent irrigation contractor, will it tear up my yard, when is the best time to install a system? Call us and we will answer all your questions, but maybe we can answer some of those questions here.
1. A properly designed yard sprinkler system can save money in many ways – THERE IS A CONSERVA IRRIGATION DIFFERENCE!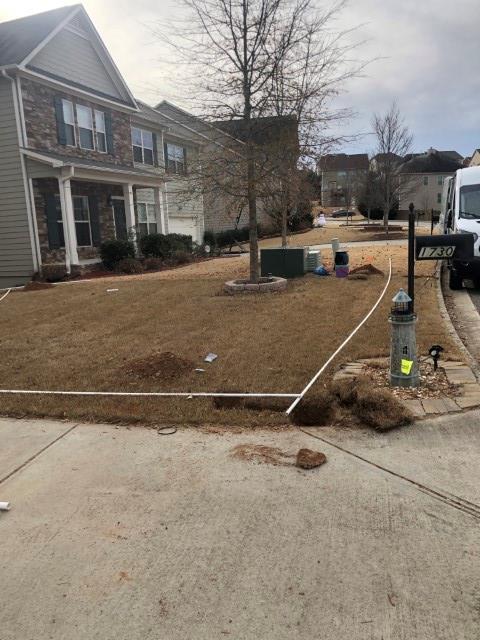 We'll design a custom Wi-Fi smart sprinkler system that will give your lawn and landscape the precise amount of water each zone needs to thrive. Our irrigation systems are built with the latest water conservation parts and technologies from Hunter, Rachio, Rainbird, or Toro to maximize water efficiency without compromising effectiveness. Conserva Irrigation sprinkler systems use 40-60% less water than most other systems.
With Wi-Fi capable smart controllers and the combination of coordinating weather, soil, and rain sensors, we'll set up your sprinkler system to run itself. Programming the controller is easy and the sensors guarantee you never irrigate during a rainstorm.
Setting and maintaining sprinkler heads is also key to water conservation and efficiency. Just think about it, if your sprinkler is watering the street, then it must run longer to water your lawn. A properly placed and adjusted head doesn't have to run as long to get the water to the yard. Lawns need an average of 1" of water per week in the Spring and Fall, while Summers here require 1.5″.
Stay up to date. If your lawn sprinkler is an older system, then it probably is leaking or using older technologies. We have seen it where we de-winterize a system and can watch the water meter start to immediately click BEFORE we have even started the zones. That is not a good thing. Paying for water to leak out is not ideal and what we call an unrealized expense. We understand that our repairs are realized upfront expenses. Still, if you are planning to stay in your home, or just can't stand knowing you are spending money with every tick of the clock, then you need to call us to do an evaluation of your system and start saving you money.
Conserva Irrigation offers package upgrades that consist of a variety of component updates that are designed to improve water use efficiency. Pressure regulation of the system in the lines as well as at the heads in conjunction with ET sensors, flow control, and a few other tricks can save 30%-50% annually.
2. What are good system products or brands? What about the warranty?
Hunter, Rain-Bird, Rachio, and Toro are all names that are recognized industry leaders. We install a combination of Hunter, Rain-Bird, Toro and Rachio products for our new systems. Our backflow products are Zurn made Wilkins Double Check, Febco RPZ and PVB, depending on the county or city code requirement.
All Conserva new system installations are covered by a warranty of up to 5-years. Ask your Certified Irrigation Technician for all the details or call our office today to learn more.
3. What is the cost of a new lawn sprinkler system?
You get what you pay for. If you are looking for the cheapest price, ask yourself what do you think you are going to get? Do you think the contractor is giving up profit to give you the cheapest price? No. He is sacrificing quality on your system. How? By putting in fewer zones (saves valves, wire & pipe), fewer heads, no rain sensor, and no other options. If you are looking for the cheapest guy on the block, don't call us. We only put in systems we are happy to claim, and that means doing it right and doing it right isn't done by being the cheapest around.
A rough estimate for a standard system varies upon size and scope, but may run approximately $3,500 - $8,500 on average. If you are only shopping for the lowest price, we suggest you wait until the budget allows for quality to be the determining factor. Don't pay for a poorly installed irrigation system that uses cheap parts; this decision will cost you significantly more than paying Conserva Irrigation the first time to do it right.
Atlanta has some of the most expensive water in the country, why waste your money on an inefficient system that may save you a couple of hundred dollars in the short-term? This "savings" will cost you far more over the years after installation.
4. How long does installation take, and what will my yard look like?
Most standard systems take 1 – 2 days. Using a vibratory puller most lawns come out looking just fine. You also need to remember; the lawns heal fast because now you have a sprinkler system to be watering without you even having to worry about it. Ask your Certified Irrigation Technician for sample photos or videos.
5. What makes a good contractor?
There is no substitute for a good trustworthy contractor. Check out our reviews on Google, HomeAdvisor, Facebook Yelp, and other platforms, they all say the same thing…5-Star Rated! Conserva may not be the cheapest, but we are the best!
Training is a huge part of what we do at Conserva. We are proud to have CIT (Certified Irrigation Technicians) on every installation. This certification is awarded by the Irrigation Association (IA) after passing the necessary exam and continued education.
Don't forget to check insurance. Conserva Irrigation is licensed and insured with General Liability, Umbrella, and Workman's Comp. If your contractor doesn't have these three types of insurance, guess who pays if someone is hurt or damage is done? You do. Insurance is a must. Ask for a Certificate of Insurance (COI) before making your final decision.
Selecting a licensed (yes contractors are required to have a license in the state of Georgia) irrigation contractor will guarantee your system is installed correctly. Our license number is LVG 105652.
Ref.: "Low Voltage Licenses are required of persons who contract to install, alter, service, or repair low voltage systems. Separate licenses are issued for general, alarm, telecommunication, and unrestricted low voltage contracting. See § 43-14-13 (f) (https://sos.ga.gov/plb/acrobat/Laws/44-48_Construction_New.pdf) Excerpts from the Board Laws and Rules for definitions."
Use less water, enjoy more savings, maintain a healthy landscape, and never have to drag out the hose again! Call Conserva Irrigation today to schedule your sprinkler system installation consultation!