What to Expect: Increased Demand for Atlanta Irrigation Services + Labor Shortage = Patience Required
Unless you've been under a rock, you've caught wind of the increased demand for home services. From interior renovations to backyard construction, lawn and landscape services, outdoor lighting installations, irrigation services, and general handyman work, the increased time spent at home during the COVID-19 social restrictions has many homeowners in home-improvement mode.
With that increased demand, the arrival of spring and summer, and a current labor shortage, receiving service at your home requires a heaping spoonful of extra patience.
A COVID-19 Home Improvement Bubble
While no one can predict the future, it does appear we are in a significant home improvement bubble. The huge surge in demand means that projects that may have ordinarily taken place throughout the next few years are ALL happening RIGHT NOW.
Homeowners are putting extra work into getting that healthy green lawn growing.
They are installing better outdoor living spaces to include decks, patios, swimming pools, and more.
They are redesigning their landscape, updating their kitchens, and having roofs replaced.
Labor Shortage
With several years worth of demand packed into one, we are short-staffed. In actuality, we are short-staffed in relation to the normal spring demand. This has resulted in a packed schedule for our licensed technicians.
For a wide variety of reasons, there is a labor shortage. While the skilled trades were already beginning to feel a shortage, COVID exacerbated it. Whether it is parents staying home to homeschool their kids, boomers retiring early amid the pandemic, or the labor force taking full advantage of extended unemployment – there are fewer workers.
With an awesome culture and room to grow an amazing career – Conserva Irrigation of North Atlanta has done all we can to attract new employees. If you know someone eager to start a profitable skilled trade career, please refer them to our team.
What Can You Do to Help Get Irrigation Services at Your Home?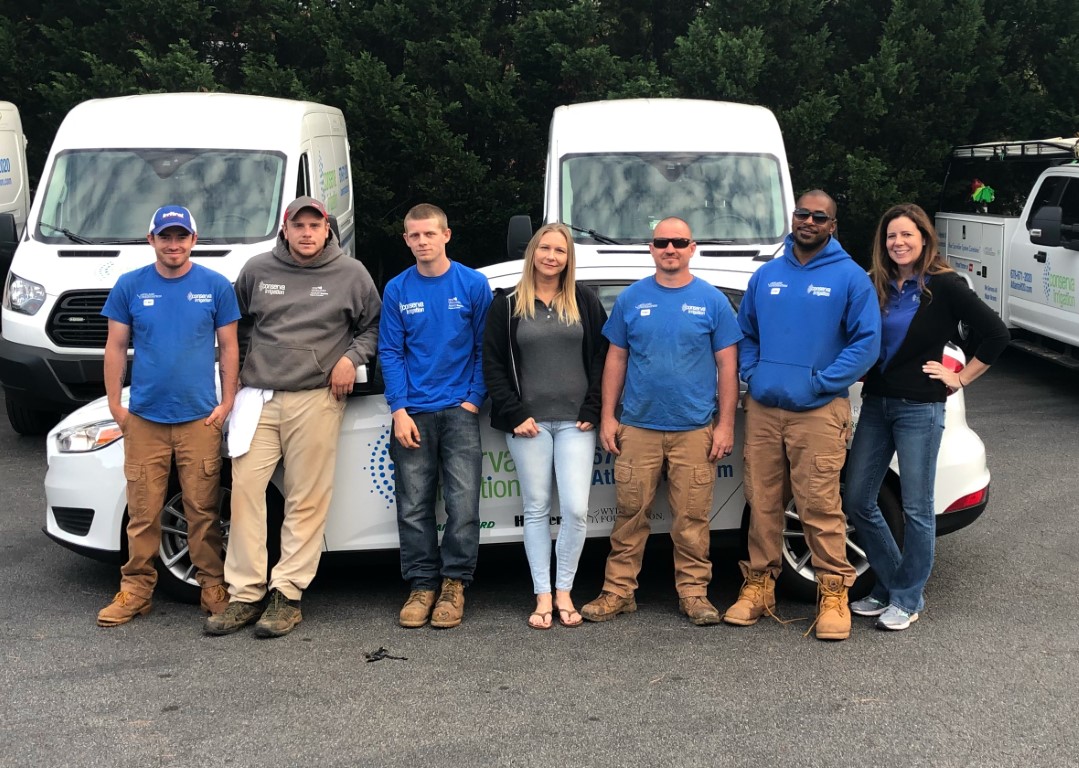 We ask that once you make an appointment, please keep it. We've had an extraordinary amount of last-minute cancellations. Those spots could be filled by others. We spend a ton of man-hours coordinating our time on the road to be most efficient and could use that time for serving more clients if we could spend less time rescheduling.
We also ask that you be patient. Lead time is going to be a few weeks for almost anything you call for. Our team can help you determine what you can do on your end to hold you over if there is a leak or a controller issue to make sure you don't waste too much water.
Please be kind.
Our team is the best. We love them and are so proud of them. We go the extra mile to treat them well.
They are working around the clock to serve as many clients as possible while maintaining their dedication to quality work, done right!
Please be understanding and kind.
They are doing their best to get to everyone. If they are treated with kindness, they become energized to continue at this pace. Please, treat them with kindness and empathy as they will do the same.
While you may be thinking, "I will wait until next year," we do want to advise you that you don't have to wait until next year. However, if your needs are not urgent, let our team know. If you are flexible on the timing, we can put you in the queue now and get to your property as soon as we possibly can.
We can't predict the future and don't know when the increase in demand might let up. So, it is important if you need service to get in the queue – but plan to be patient with our team.
Thank you for your continued patronage. We hope to see you soon.
Posted By
Conserva Irrigation
Categories: