What To Expect During The Irrigation Installation Process
Congratulations! You're about to enjoy a life that does not include hand-watering your lawn, dragging hoses out, or adjusting a garden sprinkler a hundred times to get it just right!
Installing a new irrigation system is a great step towards a healthy lawn and landscape without having to remember a thing or do a thing. But what does this installation process entail?
Read on to learn what you can expect when Conserva Irrigation of North Atlanta's experienced irrigation technicians install your irrigation system:
Irrigation Installation Site Visit
We visit your home to view your property, take measurements, and locate where valves and sprinkler heads will be located.
While at your home, we'll provide you with an estimate on the spot. We'll also be able to answer any questions or concerns you have about irrigating your property.
Irrigation Installation Prep
Installation usually occurs about one to two weeks after the initial consultation, depending on the time of year.
During the time in between, we have ordered materials and parts and called 811 to have your utility lines marked to avoid damaging underground wires. There is no need to get permits. During this time, we need you to make sure your grass is mowed short the day before our arrival so that clean-up afterward is easier and cleaner!
Most residential sprinkler systems take 1-2 days to install and clean up your property.
Irrigation Installation Day Begins
The first thing our crews need to do at your home is excavate where the water lines will run. We have two options for excavation, depending on your immediate needs:
Trenching is the more familiar excavating process of digging 6-8" wide trenches that are 12" deep. There will be no sod left above the water lines when we are done, but we do backfill and level the trenches when we are done. There will be no grass left where we dig. You can expect a 4-8 week grow back period.
Plowing is a newer technique where the machine actually pulls the pipe through the earth for better immediate aesthetics on your property after installation is complete. It will disturb the ground still, and you will be able to tell where the lines were placed, but within a week to 10 days, you'll barely know we were there. Plowing is more expensive because of the additional labor to hand dig all the connection points.

Excavating is a large part of the job, after which we lay pipes, connect valves and sprinkler heads, install weather sensors, connect and install the irrigation controller and program it. We will run the system and make sure everything is tip-top before finishing our clean up.
After we leave: Water your lawn on its new regular schedule to get it back into shape as quickly as possible. And fertilize your lawn within a week to ten days.
Do I have to be home for installation? Just on the final day of the install. On a two-day installation, the second day is when you need to be there. We will notify you of the schedule.
Post-Installation Inspection
We will schedule a post-installation visit about a week to 10 days after your irrigation system was installed. This visit is a courtesy visit to ensure all zones are firing properly, all sprinkler heads are adjusted and there are no issues. This full inspection is important as the ground settles and the system runs to make sure nothing went awry.
The Conserva Irrigation Installation Difference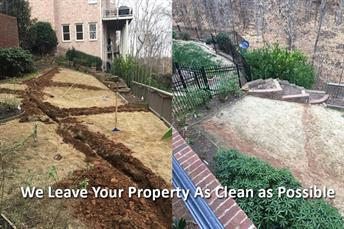 In addition to our post-installation inspection, Conserva always installs three important things in our sprinkler systems:
Backflow: This keeps irrigation water from backing up into the house.
Brass Gate Valve: This allows us to shut off water to just the irrigation system should an issue arise, rather than shutting off water to the entire house.
Blow Out Tee: A special valve for clearing all the water out of your sprinkler system during the winterization process. Important for avoiding major freeze damage during our short but cold winter.
What Will My Yard Look Like After Installation?
One of our most frequently asked questions, and rightfully so, every homeowner wants to know when their lawn will be back into tip-top shape.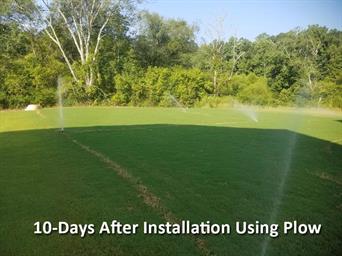 If you choose the trencher, you'll be looking at 4-8 weeks of growing new grass over the lines we buried. If you choose the plowing method, you should be close to looking normal in 7-10 days but will still be able to tell we there. Installing an irrigation system unavoidably will disrupt your lawn. Please keep this in mind when you are scheduling your installation date.
If you are ready to trash your plastic oscillating garden sprinklers and enjoy a healthier lawn with less effort, call Conserva Irrigation of North Atlanta today at (678) 921-3684 for an irrigation system installation consultation.
September 2018: 10% Off Installations Schedule By December 31, 2018
Posted By
Conserva Irrigation
Categories: