Do you Need to Replace Your Irrigation Rain Sensor?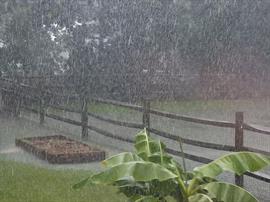 The Atlanta area has had more rainfall this spring than we've had in years. Some areas have received as much as 3 inches more than the 30-year average. If spring storms continue to roll through regularly, it is more important now than ever that your Suwanee sprinkler system controller features an automatic adjust to account for rainfall, allowing you to save water and money while the weather allows. After all, having a rain sensor is a state law in Georgia.
Have you seen your sprinkler system running during or just after rain?
Depending on your irrigation schedule, it could be difficult to notice if your Suwanee sprinkler system has been running on rainy days. Standard sprinkler system controllers do not have automatic adjust or delay to take into account recent rainfall; many people resort to turning their entire system off during the rainy season. A delay in turning your sprinklers back on can result in an under-watered lawn when the rain stops.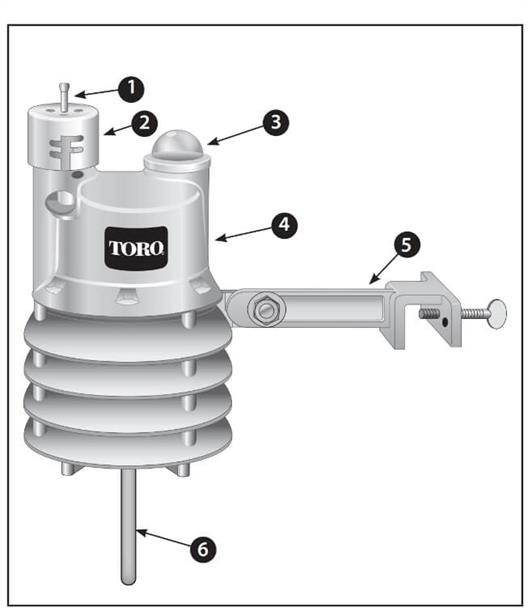 Rain Sensor Test Pin: Pressing the test pin simulates operation of the Rain Sensor by transmitting a signal to the Smart Pod

Rain Sensor Adjustment Cap: The Rain Sensor sensitivity is adjustable to suspend watering at 1/8", 1/4", and /4" (3 mm, 6 mm, 12 mm and 19 mm) of accumulated rainfall.

Solar Collector: Solar radiation and temperature are sued by the Smart Pod to calculate and adjust watering to suit current weather conditions.

Battery Compartment: A 9V Alkaline Battery (installed) can provided Weather Sensor operation up to five years (See battery service information on page 9 for additional information)

QuickClip Mounting Bracket: The QuickClip bracket design enables the Weather Sensor to be easily installed and aligned.

Antenna.
Toro® EVOLUTION Sprinkler System Controller
The first step in meeting state requirements and NOT watering your lawn during rainy weather is a rain sensor with an automatic shut-off. Georgia Code 12-5-6 states that any sprinkler system installed after 2005 has to have the rain sensor shut-off switch. We recommend the Toro Evolution Wireless Weather Sensor.
If you're looking to maximize your efficiency, we offer an even smarter system with our Toro smart controller. Rather than meeting the minimum requirements by state law, this controller works with your rain and soil sensors as well as tapping into 40 years of historical weather data for your exact location. With so much data on hand, the Toro EVOLUTION smart controller will automatically adjust your schedule to account for impending rain and recent rain. You'll never have to find your sprinkler system running in the rain again!
Call Conserva Irrigation of North Atlanta, to make sure your sprinkler system is in compliance and not running during spring showers! (678) 921-3684
Posted By
Conserva Irrigation
Categories: