North Atlanta Spring Lawn Health Depends on a Proper Fall Watering Schedule & Fall Lawn Maintenance
Suwanee, Alpharetta, and the rest of the North Atlanta region have endured a wet and rainy summer. While previous drought conditions, low lake levels, and our lawn and garden health make us grateful for the water, chances are you were sick of the rain at some point. Albeit, you were not sick of the rain when you didn't have to use your irrigation system much if you used it at all.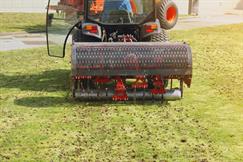 While the lower water bills can be a welcome reprieve when the weather allows you to not use your sprinklers, we urge you not to keep your sprinklers off this fall.
Fall Lawn Maintenance Needs Water to Be Effective
Fall lawn maintenance is crucial to enjoying a healthy spring and summer long next year. Included in that plan, depending on the type of grass you have, are aeration, over-seeding, fertilizer, and importantly water.
When you invest in fall lawn maintenance it is vital that your lawn receives the proper amount of water. Fertilizers without proper water can leave your lawn burned. Over-seeding without lawn irrigation can be like throwing money down the drain as those seeds will never germinate without plenty of moisture.
If you have not turned your sprinkler system on in quite some time, we urge you to call us at Conserva Irrigation of North Atlanta, first. We'll come out and provide an irrigation system inspection to make sure you continue to enjoy as low a water bill as possible by running an efficient sprinkler system this fall.
A single broken sprinkler head can cost you as much as 18-45 gallons of water each time your sprinkler system runs. Those 18-45 gallons will create a mushy soggy spot in your yard that could damage your lawn, or it will run down the sewer, wasted. Neither scenario is a good one for a homeowner who enjoys a beautiful lawn without wasting money.
Call today, before the aerator arrives. 678-671-2020
Posted By
Conserva Irrigation
Categories: