We'll Call You Back Promptly: Professional Suwanee Sprinkler System Services
The home service and sprinkler system industry can often have a bad rap. A few bad apples are not returning calls. A few more showing up for service appointments hours late or not at all. At Conserva Irrigation of North Atlanta, one of our three core values driving everything we do is Professionalism. Our experiences as customers with Suwanee sprinkler system repair service has been less than stellar, and we are determined to break the mold.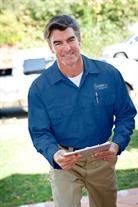 Step 1: Our Suwanee sprinkler system repair experts will call you back. While we know you understand that we can't answer every call while in the midst of providing excellent customer care, we believe you should trust that we'll call you back promptly. And we will!
Step 2: Show up. On time. Every time. Our careful scheduling allows for the best customer care, appropriately spaced so that barring unforeseen natural disasters or emergencies; we'll show up. On time.
Step 3: Appear and be professional. Our sprinkler repair technicians will appear and behave to the utmost professional standards. Arriving at your Suwanee home or business in a clearly marked Conserva Irrigation van, you'll know it is us, and we won't disappoint.
Step 4: Treat our valued clients the way we want to be treated. We'll give you the honest truth, whether it hurts you or us. If your Suwanee sprinkler system needs repairs or just a few tweaks, we'll give you the full array of options. While maximum efficiency is our goal, differentiating our suggestions by urgently needed repairs and efficiency opportunities so you can make decisions based on priorities.
If you're ready for a new experience in Suwanee irrigation system service, call Conserva Irrigation of North Atlanta today! 678-671-2020 We look forward to meeting and working with you.
Posted By
Conserva Irrigation
Categories: