Lake Lanier: A Fight for Fresh Water Supplies & the Importance of Water Conservation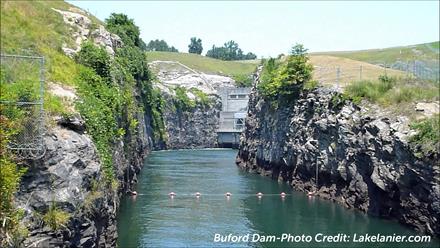 All of Georgia has a stake in the water wars between Florida and Georgia. The North Atlanta region has an especially strong stake in the game as Lake Lanier water levels stay low and drought conditions continue.
What are the water wars?
Just to recap: Florida is suing Georgia on behalf of its shellfish industry to try and cap Georgia's water use from the Chattahoochee-Flint-Apalachicola river basin. Lake Lanier is part of the Chattahoochee River, created by humans with the construction of the Buford Dam in the early '40s.
The Chattahoochee River supplies 70% of the Atlanta area's drinking water. The Buford Dam is operated by U.S. Army Corps of Engineer and creates Lake Lanier as a Reservoir Lake of the Chattahoochee River. Serving the original purpose of flood control, domestic and industrial water, hydroelectricity, recreation and improved navigation for river barges, Lake Lanier has now become a point of contention to those down river who are feeling the effects of the drought.
Even with plentiful rainfall in January, Lake Lanier remains at 10 feet below full pool. Low water levels and rising populations (strain on the water supply) has made the Chattahoochee-Flint-Apalachicola River Basin a sore spot between Georgia, Florida, and Alabama.
Georgia's Recent Water Victory
The Times-Herald reports, on February 14th the courts ruled in Georgia's favor saying "Florida has failed to show that a consumption cap will afford adequate relief." While it is a momentary win for Georgia, the court fight is certain to continue.
Here at home, we believe strongly in conserving water wherever possible. With irrigation systems using upwards of 59% of your home water use, it seems the most logical place to focus water efficiency efforts. Call Conserva Irrigation of North Atlanta today to schedule your free sprinkler system inspection. We'll find critical repairs, hidden leaks, and opportunities for improved efficiency which will save water and save you money! Call now (678) 671-2020
Posted By
Conserva Irrigation
Categories: