Alpharetta Spring Irrigation Checkup and Service
Why do I need to have my Alpharetta sprinkler system inspected each spring?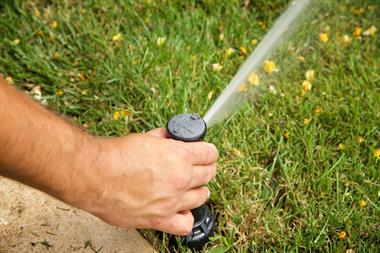 Alpharetta irrigation systems are complex systems with many vital functioning parts. During the winter months as your system lays dormant and the weather fluctuates greatly between summer-like days, deep winter freezes, droughts, and heavy storms your system can go through a lot. Also, rodents and insects can do a job on your system as they burrow and move about to stay warm during the winter. While you turned your sprinkler system off in peak condition in the fall, things could be much different now.
Potential Irrigation Issues in Spring
At Conserva Irrigation of North Atlanta, we offer a free 12-point inspection of your entire sprinkler system. This inspection includes every sensor, line, sprinkler head, valve and even the controller and programming. In the spring it is especially important to take time for a spring check-up. With your system not running for 3-4 months, there may be hidden issues which occurred over winter.
Freeze and Winter Wear
First, if there was extreme freeze or it was an especially cold winter and your system was not winterized properly, you could be looking at split lines, broken sprinkler heads, or broken valves from expanding frozen water inside. If you turn on your system without a spring irrigation checkup, you could have broken heads causing wasteful geysers or dry spots. You could have split lines which could leak water unnoticed underground for over a month before you'd noticed. You likely have sprinkler heads that simply need adjusting if they had been kicked or bumped in the winter. It all adds up to potential water waste, damaged lawns, and expensive water bills.
Pests
Secondly, if a rodent, insect or other pest was digging around in your yard during the winter months, they could have chewed through lines, buried sprinkler heads, or otherwise caused your sprinkler system not to be running effectively and efficiently without adjustment or repair.
Lightning
Lastly, winter can bring with it many types of weather patterns. Lightning is one of the most damaging weather events a sprinkler system can endure. Unfortunately, if your commercial or residential irrigation system was not properly grounded, you could be looking at some serious damage to your system and/or your controller. If a winter storm rolled through, you might not have known your controller was damaged until you try and turn it on this spring.
Let Conserva Irrigation of North Atlanta give your Alpharetta sprinkler system a thorough check before spring arrives. Our free inspection is estimated at a $150 value and will leave you with a free estimate that includes a flat rate quote for all essential repairs. No guesswork. No hidden costs. Call today to schedule your complimentary spring sprinkler check-up (678) 671-2020. We look forward to working with you.
Posted By
Conserva Irrigation
Categories: