Is a French Drain the Right Drainage Solution for your North Atlanta Yard?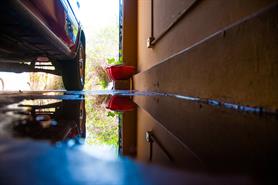 When it comes to yard drainage solutions, the french drain is the most frequent request we get. Sometimes it is the right solution, sometimes it is simply the terminology homeowners use to encompass many types of yard drainage systems. While our experts will help determine what drainage system is best for your yard, we wanted to help you get a sense of the what the options are by explaining what a french drain is and the benefits of it.
What is a French Drain?
A french drain is known by many terms, all of which are okay to use: weeping tile, blind drain, rock drain, drain tile, sub-soil drain and more. It is basically a trench, usually containing a perforated drain pipe. This pipe redirects surface water and groundwater away from the problem area to an area more suitable for it to be released. Often, for residential homes, we'll route the pipe to come out in the street so it can flow down the sewers with the rest of the rain run-off.
While a french drain might be exactly what you need, there are many other contributing factors. Depending on where the water is puddling and where the water is coming from, we may be able to alter downspout drains or use channel drains to get the job done. We may recommend a dry creek bed or some alterations to the grade of your property. Our drainage solution experts will create a custom solution for you, so you can sleep easy when the rain falls.
If your Suwanee, Johns Creek, Alpharetta, or Milton property has areas of flooding when it rains, call Conserva Irrigation of North Atlanta today. 678-671-2020
Posted By
Conserva Irrigation
Categories: