Areas We Serve
and the surrounding areas
Use 60%* Less Water on Irrigation
We help homeowners become more environmentally responsible while sustaining healthy lawns.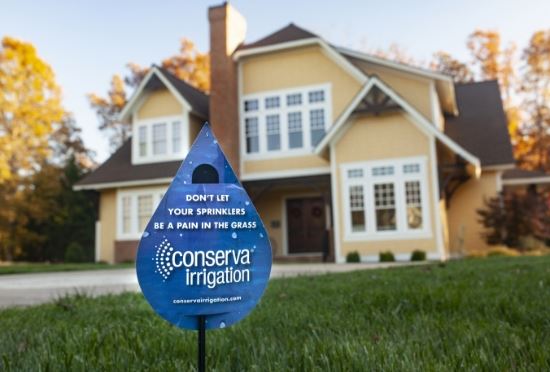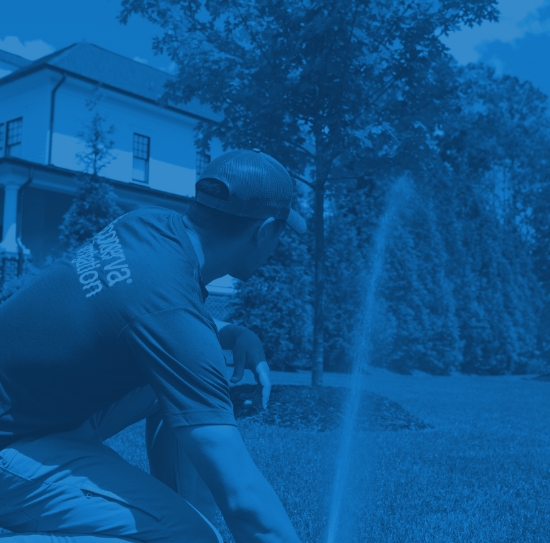 Maintaining Beautiful Lawns
Without Draining Resources
Conservation is in our name, in our culture, and in our commitment to our clients. Conserva Irrigation® proudly specializes in commercial and residential irrigation services and solutions that help alleviate the billions of gallons of water wasted every day due to irrigation system runoff. When you choose our eco-friendly services, you can save money, conserve water, and maintain a beautiful lawn all at the same time.
Did you know that, out of all the water the average home uses every day, more than half of it is consumed by irrigation systems? This means that your sprinkler system likely accounts for more than half the cost of your water bill.
Less Water. More Savings.
At Conserva Irrigation of , we continue to offer reliable residential and commercial lawn irrigation services built to conserve water and lower your bill, all while keeping your lawn looking it's absolute best year-round. Our team is dedicated to fully understanding the goals you have for your yard and finding solutions that work for you – and your wallet!
Some of the irrigation services we offer in Glen Allen and surrounding communities include:
Installation Services - Our team is happy to provide professional and reliable sprinkler and lawn irrigation services. Whether you're looking for traditional drip irrigation or a modern, sleek sprinkler system, we can handle the installation.
Maintenance Services - From leaky sprinkler heads to programming issues, our professional maintenance team can handle a variety of sprinkler problems you may encounter. Big or small, our experts can handle virtually any sprinkler or irrigation project.
Design Services - Have no idea where to start? Even if you have no idea where to start, our team can perform a walkthrough of your property and learn more about the goals you have for your space so we can design a sprinkler or irrigation system that will help your lawn thrive!
When you hire the team at Conserva Irrigation of , not only are you getting some of the best irrigation system services available, you're also getting the ultimate peace of mind. You can rest assured knowing that our advanced systems will help you maximize your water savings while helping you do your part in conserving water – one of the earth's most precious resources. Whether you're looking for a commercial lawn irrigation system or one for your residential property, every component we use in our systems is specially selected to provide your landscape with the perfect amount of water, exactly when your lawn needs it.
Irrigation Repair Near You
You could be past due on getting your irrigation system inspected. A damaged or malfunctioning irrigation system could cause more costs down the road to manage your lawn. Reach out to Conserva Irrigation of now if your irrigation system needs repair. We offer a free Comprehensive irrigation, no obligation system inspection to our new customers. The skilled Glen Allen technicians take their time and go over each element and function of your irrigation system to make sure we cover everything.

What Our Clients Are Saying
"I like that they proactively call me to schedule services and not relying on me to call them or waiting for neighbors to be on the same day for service. Very professional and worth the money." Robin F.
Naperville, IL
"I was very pleased. The technician was prompt. Knowledgeable, thorough, professional. I will recommend Conserva to all my neighbors. I am glad "they" responded to my request so quickly! They came out ..." Rachel T.

"Conserva Irrigation was prompt, knowledgeable, honest and fair. It's hard to imagine a business in this day that meets all those criteria however, Conserva exceeded all expectations. Mark was great to ..." Taryn
Dallas, TX
"Jonathan did a great job repairing my sprinkler system . He fixed the leaks, found my missing valve, told me and demonstrated how to adjust my watering schedule for a better result. And, most ..." Marv
Charlotte, NC
"Dennis did a great job. Very thorough and informative." Jay Hexamer
Alpharetta, GA
"John came out the same day, diagnosed the issue and repaired it within an hour. We tested the sprinkler system and it worked perfectly. John is a friendly, seasoned business man who knows how to treat ..." Kevin
PELHAM, AL
"Joey was our service technician, was excellent, very professional and very polite." Molly
Lake Worth, FL
"I called this company to fix a mess that another so called sprinkler did. They sent out a young man named Chris C. he was one of the nicest young men I have met in a long time. Very neat, very ..." Marc W
Merritt Island, FL
"Dean was professional and honest with his inspection of our irrigation system. We look forward to having Conserva service our system in the future" Jacqui Lewis
Virginia Beach, VA
Read More