The Chattanooga Sprinkler System Repair Experts
Nothing slows down a lawn's recovery like a broken sprinkler system. It can be frustrating and overwhelming, especially if you just installed your sprinklers. Sprinkler system repair is a common need, and we're glad to offer these services to Chattanooga residents. No matter what your issues may be, our skilled technicians can help.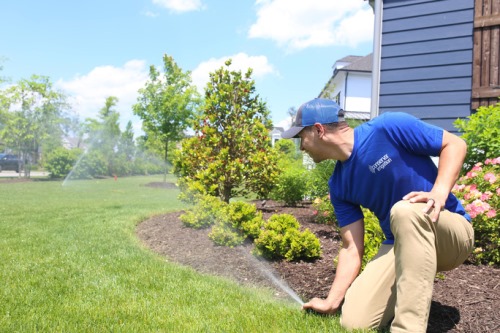 Common Irrigation System Repairs
Conserva Chattanooga receives lots of inquiries around sprinkler system problems. They range from simple to more complex, but typically they fall into these categories:
Controller and sensor issues causing uneven watering.
Visible leaks.
Clogged sprinkler heads or broken ones.
Poor water pressure.
If any of these issues are present, your irrigation system won't be working effectively. These are just a few of the reasons we find in the field. There are many more, and sometimes they aren't so obvious. The quickest way to discern there could be an issue is what you can visualize:
Dry and/or soggy spots.
A surprise higher water bill because one tiny pin-hole prick can waste hundreds of gallons of water.
Noticing no activity of your system at all.
How We Diagnose Sprinkler System Repairs
Sometimes our customers know what the problem is, and sometimes it could be multiple things. When setting up the appointment, we'll ask some basic questions. On site, we'll perform our free 12-point inspection. That helps us truly assess the system and diagnose what the issues are.
The inspection includes a full review of the entire sprinkler system, including lines, controllers, and sensors. The inspection report delivers a System Efficiency Score (SES) from 1-100. Our technician will explain what he or she found along with the recommended repairs and costs. If you approve the estimate, we usually can fix it that day, as we stock our trucks with materials and parts. In most cases, we can get your sprinkler system back to running optimally, so it can provide the nutrition your landscape needs. Our goal is to ensure we complete every repair effectively and efficiently.
Don't Delay Your Sprinkler System Repair
For anyone that needs repairs to their sprinkler system, it's important not to wait. Delaying this could cause further damage and cost you more in water bills. A quick resolution is a best-case scenario.
We can repair any sprinkler system in Chattanooga, regardless of who installed it. Get peace of mind and a guarantee that you'll be happy by contacting us today to schedule your inspection at 423-401-9517.
Posted By
Categories: