Atlanta Irrigation System Installation
Conserva Irrigation of North Atlanta is your best choice for lawn sprinkler system installation and drip irrigation installation in Suwanee, Alpharetta, Johns Creek, and all of North Atlanta.
A healthy, green lawn and landscape are best accomplished with a smart sprinkler system that will run automatically, using only the amount of water needed. Too often garden sprinklers are left on too long, overwatering some areas and underwatering others. If you're still hand watering, pulling out hoses, and adjusting garden sprinklers, it is time to give us a call at 678-671-2020.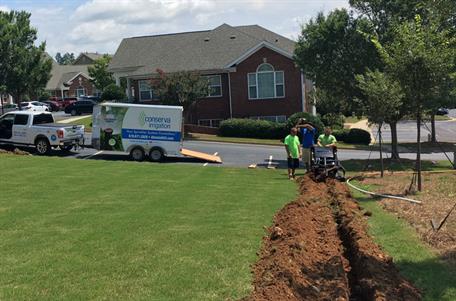 Vacation? Travel for work? Unexpected dry spell? Don't worry. Your lawn and garden will stay lush and green while you are away. At Conserva Irrigation of North Atlanta, we'll design a smart sprinkler system you can set and forget.
Our Sprinkler System Installation Process
Our highly trained professional technicians will come out to your property to survey your lawn and landscape. We'll get a sense of drainage rates, sun/shade exposure, soil types, property slopes and the various types of vegetation and plant life.
Taking all of the information into account, we'll design a custom Toro® smart sprinkler system that will give your lawn and landscape the precise amount of water each zone needs to thrive. Our irrigation systems are built with the latest water conservation parts and technologies to maximize water efficiency without compromising effectiveness. Conserva sprinkler systems use 40-60% less water than most other systems available.
With a combination of our Toro EVOLUTION® controller and coordinating weather, soil and rain sensors, we'll set up your sprinkler system to adjust itself for the most precise watering schedule. Programming the controller is easy. And the sensors guarantee you never irrigate during a rainstorm.
Our expert irrigation technicians will execute your installation with meticulous mechanical and technical skill, so you know it is done right the first time. Everytime. Read What to Expect During Irrigation Installation, to get a sense of what our installation team will do at your home.
Residential Sprinkler System Pump Installation
A new sprinkler system pump may be needed for a variety of reasons. Sometimes a pump has simply reached the end of its life, it has broken, or a system is being expanded - requiring a larger pump.
Our expert irrigation technicians are your best choice for the right size pump, a top-quality pump, and meticulous pump installation.
Having the right size sprinkler pump properly installed is crucial to the efficacy and longevity of your sprinkler system as a whole. If the wrong size pump is chosen, not only will the pump fail, but it has the potential to damage a variety of elements across your entire sprinkler system such as hoses, valves, nozzles, and sprinkler heads.
Sprinkler Pump Experts
Sprinkler pumps are one of the most complex mechanical components of an irrigation system. Not every irrigation technician has the skill and experience to property install and service them. But we do!!
Our team will carefully assess and calculate the flow and pressure your system requires to help choose the exact pump for your sprinkler system.
Our team only installs top-quality pumps, so you'll rest easy knowing your sprinkler system pump will last. From water connections to pump relay controllers, our team will install and test every element of your new sprinkler system pump so you can go back to your regular irrigation schedule right away. And if you enroll in our maintenance program, we can make sure the regular care of your pump is taken care of so you don't have to do a thing.
Use less water. Enjoy more savings. Maintain a healthy landscape. And never have to drag out the hose or garden sprinkler again! Call us today to schedule your sprinkler system installation consultation!