Gainesville Irrigation Services are Best Left to the Proven Experts at Conserva Irrigation of North Atlanta
Conserva Irrigation of North Atlanta services all Gainesville Sprinkler Systems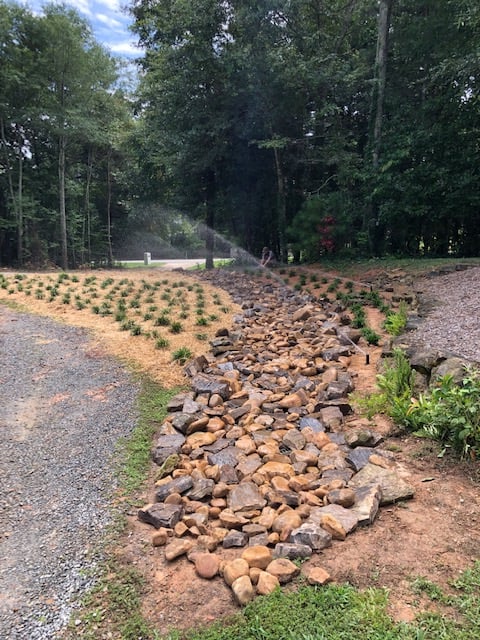 Are you in need of Gainesville sprinkler system repairs? Could your lawn and landscape benefit from irrigation installation? Or maybe you just need an irrigation service provider to handle your seasonal sprinkler system maintenance. If so, you've come to the right place. Give the expert irrigation technicians a call today to find out how we can help you!
Gainesville Commercial & Residential Irrigation Services
Conserva Irrigation is the fastest-growing sprinkler company in the United States. As your locally-owned and operated branch of Conserva, you can count on the customer care of a mom and pop shop but with the buying power and proven processes of a large company.
We were founded on water conservation. This means we work diligently to ensure all of our customers are using as little water as possible to keep their lawn and landscape healthy. Our technicians are well-versed in the myriad of sprinkler system optimization methods to help achieve these goals – which ultimately saves you money on your water bill.
How do we do it?
One of the most important ways to keep your irrigation system efficient is to fix any issues as quickly as possible. Our team is the best at finding the tiniest leaks and repairing them quickly and completely. Did you know a single broken sprinkler head can waste as much as 20,000 gallons of water over the course of a single year? Count on Conserva Irrigation to keep your system in tip-top shape with Gainesville sprinkler repairs.
Gainesville Irrigation Maintenance & Service
Sprinkler systems are complex machines. With many moving parts and electrical components, it is important to have your system serviced regularly. At Conserva, we offer a variety of maintenance plans to meet every homeowner's needs. And all of them include Gainesville sprinkler winterization and summerization services, which are crucial ways to protect your irrigation system from weather-related damage.
Gainesville Sprinkler System Installation
Did you know that installing an irrigation system can actually save you money? It is true. If you're considering a Gainesville irrigation system installation, we recommend you consider the reality of lawn and landscape upkeep.
Firstly, watering by hand is highly inefficient and often ineffective. Lawns can easily be over-watered and under-watered, whereas a SMART irrigation system from Conserva is automated to use the precise amount of water needed.
Both an over-watered lawn and an under-watered lawn can wither and die quite quickly. This can lead to hundreds and even thousands of dollars spent trying to repair your turf regularly.
In addition, you can easily waste money on over-watering, especially if you've rigged garden sprinklers to do the job. Garden sprinklers are often left on too long, over-spray on to sidewalks and driveways, and only last one season, leaking water everywhere as they begin to fail over time.
Call Conserva Irrigation today to get a quote for the best Gainesville sprinkler system installation.
Call today for all of your Gainesville sprinkler system needs. We service residential, commercial, and HOA irrigation systems of any brand and type. We look forward to working with you.
Also, be sure to check out our other services such as yard drainage and backflow testing.
Posted By
Conserva Irrigation
Categories: