Is a French Drain the Right Solution for Your Backyard? Dry Creek Beds Often Do the Trick
Is your backyard holding water every time it rains? You might be searching for a french drain because it is a popular term. But a dry creek bed could be the thing you really need. In fact, often, a french drain is not a good solution at all in the Northern Atlanta area due to the soil type. It can be an expensive challenge to dig a french drain in the clay.
What is a dry creek bed?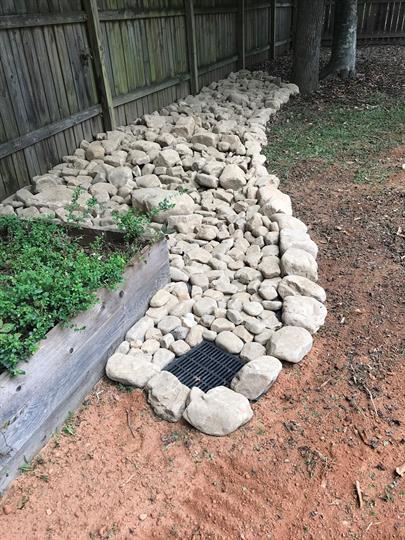 A dry creek bed is also known as a dry stream bed and sometimes a gully trench. It is essentially a trench that is used to collect excess water from your yard and guide it away from the usable areas. It is designed to look like the banks of a river and adds beauty and interest to your landscape design while also solving your drainage issues. It is a great solution for low areas that hold water, it also can be used to create an area for water to drain to, protecting the rest of your property from standing water.
What are the benefits of a dry creek bed over other drainage solutions?
You might be thinking of a french drain or even regrade of your property, but a dry creek bed can often solve your drainage issues just as well. The added benefits of choosing a dry creek bed include:
Elimination of previously muddy soggy sod.
Redirection of water previously eroding areas or sitting in other areas of your yard.
Stunning landscape design feature.
Additional landscape design options such as meandering paths, varying river rocks, and new plant choices.
Dry creek beds require less excavation than some other drainage solutions.
If your yard needs a custom drainage solution, call our team at Conserva of North Atlanta today. Our expert staff can assess your property to provide you with all of your drainage solution options.
Posted By
Conserva Irrigation of North Atlanta
Categories: