Johns Creek Sprinkler Systems are the #1 Cause of Your High Water Bills in the Summer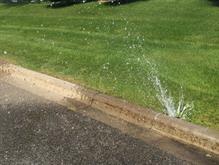 Did you know your Johns Creek lawn sprinkler system is the #1 cause of your high water bills each summer? In fact, it accounts for approximately 59% of your monthly water bill. Have you been hounding the kids to turn off the sink while brushing, or make sure the dishwasher is full before you run it, etc.? What if I told you that a single call to Conserva Irrigation could save you 30-40% of your irrigation water use and cost? Would you call?
At Conserva Irrigation of North Atlanta, we offer a free sprinkler system inspection for all Johns Creek irrigation systems. With our 12-point sprinkler system check, we identify hidden leaks that could be costing you every month. We also identify areas where your system could be running more efficiently. With a few repairs, adjustments or upgrades you could significantly lower your water bill this summer.
Spring Sprinkler Inspections
Spring is a crucial time to have your Johns Creek irrigation system inspected. With the system being turned off for the winter, a variety of events could create issues unbeknownst to you. During a cold snap, a line with some remaining water in it could have frozen and split. A mishap with a football or lawn mower could have bumped or broken a sprinkler head, and you would have no idea with the system not running for many months. This can take your already expensive water bill to a whole new level; a single broken sprinkler head can leak 18-45 gallons of water every time your irrigation system runs.
Our expert irrigation technicians will check each sprinkler head, every water line, and all of your programming to make sure everything is in tip-top shape and ready to go for the hot, dry summer season.
Call today for your FREE Johns Creek sprinkler system inspection. Don't wait; summer is coming! (678) 671-2020
Posted By
Conserva Irrigation
Categories: