Hampton Roads Pressure Vacuum Breaker
Get your Williamsburg Pressure Vacuum Breaker Tested with Conserva
The pressure vacuum breaker (PVB) is an important component of the irrigation system. It provides protection against backflow or siphoning of water, or in other terms it keeps outside fertilizer and pesticides from contaminating your drinking water.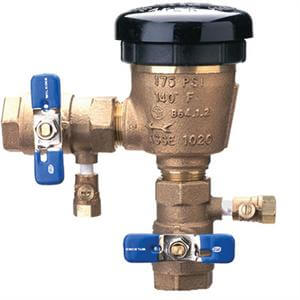 How does a PVB work?
A PVB has a check valve and air inlet that vents to the air. The PVB is installed close to the water source in the water flow before it goes into the sprinkler valves. Your PVB should be installed above the highest point in the system, usually the tallest sprinkler head or the highest slope in yard. The check valve is designed to allow water through and keep the air inlet closed during normal conditions. When the air pressure is greater than the water pressure, the vent will open and close the check valve preventing backflow of water.
Why do I need to have my PVB tested?
Because it's the law! In Williamsburg, VA and Yorktown, VA you have to have your Vacuum Breaker tested annually. This is for the safety of your family and neighborhood. If you're looking for an irrigation company to test your PVB, well you've found one. Conserva Irrigation will inspect your Williamsburg sprinkler system and test your Vacuum Breaker.
We Install Vacuum Breaker's Too!
A PVB will keep your water clean from any outside influences like fertilizers or pesticides. When installing the PVB, we will ensure that it is up to city standards which is above the highest point in the sprinkler system, usually the tallest sprinkler head or the highest slope in yard where a sprinkler head may be positioned. If you're looking to install Pressure Vacuum Breaker, give Conserva Irrigation a call.