Why You Need a Professional Irrigation Winterization Blowout in North & Central NJ
The harsh winters in North and Central New Jersey can take a toll on your irrigation system. Most years the temperatures fall below freezing in December and, without proper preparation, can wreak havoc on your system, costing you hundreds, possibly thousands, of dollars.
To prevent freezing water from bursting your pipes and potentially ruining your entire system, it's important to work with a professional irrigation company that can make sure your system is fully prepared for the winter months.
Don't Let This Happen to You!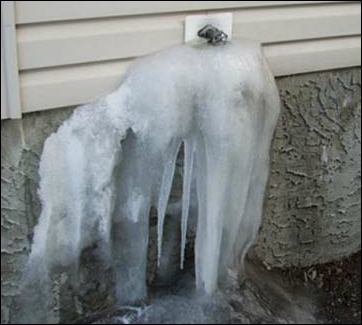 Without a proper winterization from a professional irrigation company, you're putting your system at risk for freezing over. While blowing the air out of the system is one part of the equation, there are many steps and checks to ensure safety and quality that nonprofessional technicians may overlook or perform incorrectly. Left unchecked, components can freeze over and require a partial or complete irrigation system replacement.
Professional Irrigation Winterizations in Marlboro, East Brunswick, Old Bridge & All Areas in North & Central NJ
Conserva Irrigation of Central New Jersey offers professional winterization blowouts that ensure your system is ready for the cold weather. Starting at just $60, our certified technicians perform a complete irrigation blowout and inspect all components for proper functioning, regardless of your system's size or who did the installation.
By choosing Conserva, you can feel confident that the job is being done to the highest quality standard. Not only do we blowout your system, we undergo the necessary safety and quality checks to make sure your system is fully prepared for freezing temperatures. We also have a No Freeze Damage Guarantee ensuring freezing temperatures won't damage your system during the winter months.
During an irrigation winterization, we:
Turn off the water supply to the sprinkler system
Evacuate all water from the sprinkler system
Turn off the controller to the sprinkler system
Assess the condition of the sprinkler system
Create a sprinkler Winterization Report
Leave behind an estimate for sprinkler repairs
Answer any and all questions that may come up during the sprinkler blowout
Leave you with the confidence of our No Freeze Damage Guarantee™
Our certified technicians use sophisticated diagnostics to evaluate your entire system and make you aware of any necessary repairs so that your system is protected this winter and functioning properly when the water is turned back on in the spring.
When all is said and done, you'll have a guarantee that your irrigation system is prepared for the winter months as well as a comprehensive report that includes recommended repairs and adjustments along with our flat-rate pricing so that your ready to hit the ground running this spring. For professional irrigation services in North and Central NJ, you can't go wrong with Conserva.
If you live in the East Brunswick, Old Bridge, Marlboro or surrounding areas in North and Central New Jersey, call Conserva Irrigation or fill out our contact form to schedule irrigation system winterization service today!
Posted By
Conserva Irrigation
Categories: