Prep For Your Minneapolis Fall Sprinkler Blowout with these Frequently Asked Questions
In Minnesota, it's that time of year again, time for winter preparation! Winter is especially hard on our irrigation systems, that's why it is absolutely necessary to get your sprinkler system winterized before the first freeze. Now that Labor Day has passed the cold is right around the corner and we at Conserva Irrigation of the Twin Cities do not want you to be caught by surprise.
Before calling Conserva Irrigation to schedule your sprinkler blowout we want you to be as knowledgeable as possible on how we perform our winterizations.
That's why we've put together these Frequently Asked Questions about fall sprinkler blowouts:
Q. Do I need to be home for my sprinkler blowout
A. No. If you are unable to be home while we winterize your system, our certified technician will need access to the sprinkler controller (usually located in the garage), and the water shut-off (usually located in the basement). You can give us your temporary garage code or leave the service door open. Additionally, we will need access to the basement to turn off the water – unless you do that yourself.
Q. When is the best time of the year to schedule my sprinkler blowout?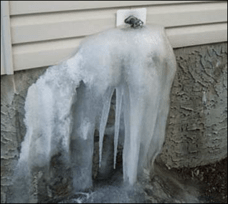 A. The time of year depends upon the region of the U.S. that you live. In the northern regions, the blow out season starts at the end of September and lasts through early November. Regardless of the region you live in, it is crucial to have your system winterized before the temperatures consistently fall below 32° Fahrenheit to avoid freeze damage to your irrigation system – especially for above ground plumbing.
Q. What is included in the winterization price?
A. Conserva Irrigation will turn off the water to your system, evacuate all water from the irrigation system, winterize the vacuum breaker, turn off the controller and run through an audit of your current system. Conserva Irrigation uses pressurized air to winterize your system – This acts as a perfect diagnostic tool by pointing out line leaks, broken heads, and other deficiencies. Conserva Irrigation will assemble and leave you a Winterization Report that includes an estimate for necessary repairs.
Q. How long is the sprinkler blowout process?
A. Typically our winterization process takes 2 minutes per zone, plus setup and take-down time of 10 minutes. For example, an 8 zone system will take approximately 26 minutes to winterize, including recording the data for the winterization report that is left with you. If you have a tight schedule and you need to leave, our certified technician can finish without you being home.
Q. Does Conserva Irrigation guarantee its sprinkler blowout?
A. Yes. Conserva Irrigation offers a No Freeze Damage Guarantee™, provided that Conserva Irrigation was able to winterize your system prior to damage caused by below-freezing temperatures. Some exclusions apply, including water sources that exit the house utilizing an elbow – rather than a tee. Ask your certified Conserva Irrigation technician at the time of winterization if any other rare or unusual circumstances apply.
To schedule your fall sprinkler blowout now, call Conserva Irrigation of the Twin Cities at 763-434-5414 or email us at twincities@conservairrigation.com. We look forward to working with you!
Posted By
Conserva Irrigation of Twin Cities
Categories: