DON'T FORGET TO PUT "WINTERIZE MINNEAPOLIS SPRINKLER SYSTEM" AT THE TOP OF YOUR TO-DO LIST
As summer comes to an end and fall nears we are all busy getting kids back to school, winterizing the boat and scheduling your sprinkler system winter blow-out. Yep, you read that right I said sprinkler system winter blow out! An important part of winterizing your home or cabin is blowing out your sprinkler system. As Minnesotans, we know how important it is to be prepared for that first freeze. By being prepared we reduce the risk of cracked or bursting pipes come spring.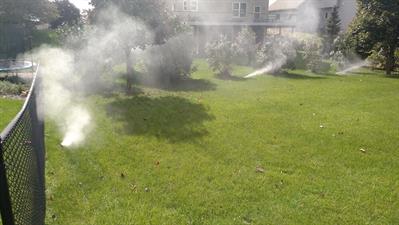 During your Minneapolis sprinkler system blow-out, we will:
Turn off water and controller
Inspect all sprinkler heads
Evaluate all water from the entire irrigation system
Winterize the vacuum breaker
Complete winterization system report
Our goal at Conserva Irrigation is to make sure no sprinkler system go un-winterized. That's why we offer your Minneapolis irrigation system winterization at a great rate! Not only will you receive a system blowout but you'll also receive a complimentary inspection on your irrigation system. Performing a thorough inspection to look for broken heads or line leaks is especially easy during the winterization process.
Air Bubbles = Broken Sprinkler Heads
Air makes a perfect diagnostic tool. Every time we perform a winterization blowout we use pressurized air to discover and locate potential breaks and leaks. The pressurized air bubbles up to the surface alerting us of a broken seal near the bottom of the head which can easily go unseen. This is why the winterization process is particularly good to find broken heads, leaking seals or small line leaks.
Drip Irrigation Line Leaks
Damaged drip irrigation lines are particularly hard to find. It's easy to slice a line with a garden tool or have your furry friend bite at it poking holes causing a major leak in the line. Have you ever heard a small hissing come from a tire on your bike or car? You know instantly that your tire has been punctured and is now leaking. The same concept applies to the air we run through your drip irrigation system during a winterization blowout. If we're able to hear it ahead of time we'll save you from wasting thousands of gallons of water when you turn your system on in the spring.
Don't wait for fall to schedule your sprinkler blow-out with Conserva Irrigation of the Twin Cities. Call us today or email us at twincities@conservairrigation.com to schedule your blowout and a complimentary inspection. We look forward to working with you!
Posted By
Conserva Irrigation of Twin Cities
Categories: