Sprinkler Winterization in Milwaukee
Trusted & Reliable Sprinkler Blowout
Sprinkler winterization - also known as sprinkler blowout - is essential to maintaining your irrigation or sprinkler system. Especailly in Milwaukee, WI, we experience frigid cold temperatures which can damage your sprinkler and irrigation systems if they are winterized.
At Conserva Irrigation of Milwaukee, we offer sprinkler and irrigation winterization services that can help prevent costly repairs. We deliver unparalleled service and are committed to our core values: professionalism, innovation, and responsibility.
For sprinkler winterization services near you, call us at (414) 312-5691 or reach out online to get started with a free sprinkler inspection.
Why Winterize a Sprinkler System?
You hear about winterizing boats, pools, campers, etc. but something you might not consider is your irrigation and sprinkler system.
Sprinkler Winterization Protects Your Pipes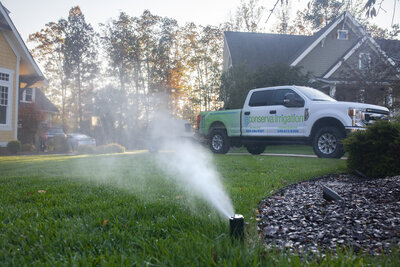 After using your sprinklers throughout the warmer months, water will remain in the pipes as they do not clear themselves when you turn them off.
Then once the temperatures drop, the water left inside your pipes will freeze and expand. It won't take long before the pipes will crack or burst wide open.
Either way, leaking pipes cause many problems on properties that won't disappear until the entire system is re-piped. Our sprinkler winterization services help prevent this form happening
Sprinkler Winterization Protects Your Sprinkler Heads
Besides the pipes bursting, water can also trap within the sprinkler heads, causing them to break off. Ultimately, if you don't take precautions with winterization, your entire system is at risk of ruin.
Many other services available for winterization will provide semi-complete winterization services, clearing air out from one sprinkler head to another but not ensuring that each individual head clears.
This can result in costly damages occurring. Plus, it won't catch any underlying leaks. Only a full blowout will find air bubbles that indicate problems, which you can count on us to tackle.
Do you have any questions about sprinkler winterization in Milwaukee? Dial (414) 312-5691 or contact us online today. We look forward to serving you.
Prepare Your Irrigation System – Winter is Coming
At Conserva Irrigation of Milwaukee, we're the top choice for helping home and business owners gear up for the cold months.
Our team is here to help you make sure your sprinklers are ready to take on freezing temperatures.
Our sprinkler winterization services include:
Shutting off the water supply to your system

Removing water from the entire system

Turning the system controller off for the season

Inspecting your sprinkler system's condition
After our licensed and trained technicians clear all air out and assess your system, we'll create a detailed Winterization Report for you with all our findings.
Of course, we'll explain everything within the report and answer any questions you may have. Before you return to your regular routine, we'll provide an estimate for any of the repairs we found necessary so you can take your time deciding the next steps.
Schedule your winterization service in Milwaukee online or give us a call at (414) 312-5691 today.