Did you know more than 50% of the water used outside is wasted due to inefficient watering methods?
Watering your lawn isn't a difficult concept, however, more than half of the water used outside on your lawn and landscape is wasted due to inefficient watering methods. So, get it right the first time and water wisely with these tips from Conserva Irrigation.
Get in the zone. At Conserva, we will schedule each individual zone in your irrigation system to account for the type of sprinkler, sun or shade exposure, and soil in that section. Different zones will almost always need different watering schedules.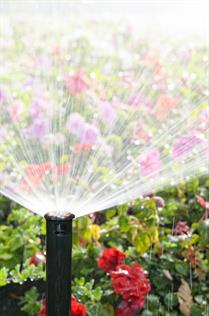 Consider soil type. The type of soil determines how quickly water can be absorbed without runoff. Watering more than the soil can absorb causes runoff and waste. With a Toro Precision Soil Sensor, your controller will know when your lawn needs water and when it doesn't.
Don't send water down the drain. With annual maintenance, we will adjust sprinkler heads to water plants and the lawn instead of your driveway, sidewalk, patio or buildings. Not only is this a waste of water but your lawn and landscape aren't getting the water they need to survive.
Water only when needed. Smart irrigation technology with Toro and Conserva allows your system to water only when it is needed. Saturating root zones and letting the soil dry ensures water is not being wasted or that your lawn is being drowned. Watering too much and too frequently results in shallow roots, weed growth, disease, and fungus.
Water at the best time. Watering during the heat of the day may cause losses of up to 30 percent due to evaporation. Prevent water loss by watering when the sun is low or down, winds are calm and temperatures are cool — typically between the evening and early morning.
Water more often for shorter periods. Using the cycle soak method will maintain a healthy root system for your lawn and plants. For example, setting your system to run for three, 5-minute intervals lets the soil absorb more water than watering for 15 minutes at one time, reducing runoff.
Adapt watering to the season. Investing in a smart controller and other products like the weather sensor will adjust the watering schedule automatically based on seasonal weather changes and conditions.
Conserva Irrigation of Twin Cities can help you water-smart, so you can stop worrying about the amount of water that is being wasted and the money you're spending! Call today to get signed up for a free inspection.
Posted By
Conserva Irrigation of Twin Cities
Categories: