Houston's Best HOA Irrigation System Service Provider Will Lower Your Water Bill & Improve the Health of Your Landscape
Does your neighborhood spend a fortune on irrigation to keep entrances and common areas looking pristine? If your sprinkler system is more than a few years old, you quite likely could be spending a lot of money on water you don't need. With vast improvements in irrigation technology, precise watering has become easier to manage, allowing you to use less water for a healthier landscape.
At Conserva Irrigation of North Houston, we focus on water efficiency. Our SMART systems have been known to save neighborhoods as much as 40-60% on water use. The good news is, we can work with your existing system – no matter who installed it. With repairs and upgrades, we can help your community start saving money on the water right away!
HOA Irrigation Services to Save You Money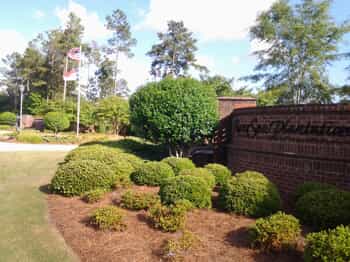 If you're the President of the board or an employee of a property management company, we can help you become the shining star to the residents in the neighborhood. When you choose us as your irrigation provider, we'll help you start saving money right away and offer phased upgrades to fit within your annual budget. Here is how it works:
We start with a full inspection of your system. We'll provide you with an itemized list of needed repairs and opportunities for efficiency upgrades.
Every repair needed is an opportunity for water savings. That leaking sprinkler head can be replaced with a more efficient model, so you'll start lowering water consumption right away.
Efficiency upgrades don't have to be done all at once. We can work with you to come up with a phased plan for upgrading your system. We can start with urgent needs for quick saving and slowly get your system up to peak efficiency over the course of a few years.
Your neighbors will thank you! When the neighborhood saves money, everyone saves money. Those annual increases in dues may become unnecessary.
Your neighbors will thank you for a second time as at Conserva, we offer a discount to homeowners in the neighborhoods whose HOA we serve.
Many HOAs let their landscapers handle the irrigation system. It might be more streamlined; however, landscapers don't care if sprinkler heads overspray or your water bill is through the roof. They also don't keep up with the latest efficient sprinkler heads and nozzles. They have another lawn to get to and are in and out as fast as possible.
If you have been heading out to work and noticed water running down the street near your neighborhood landscaping – you can bet your bottom dollar HOA dues are running down the drain with that water.
Call Conserva Irrigation of North Houston today to schedule an inspection. Don't wait! Every day your system runs could be costing your neighborhood cash!
Posted By
Conserva Irrigation of North Houston
Categories: