Why You Absolutely Should Winterize Your Houston Sprinkler System
"Hope for the best. Prepare for the worst."
It might seem like a pessimist mantra, but when it comes to protecting your home and all the systems that keep it running, it is best to err on the side of caution. Just like having homeowners insurance, having your sprinkler system winterized is just a smart way to protect yourself from potential exorbitant expenses down the line.
Unlike the north, where sprinkler system blowouts are a 100% must-do, and everyone knows it, Houstonians like to think our weather won't get that cold. But, year after year, the weather proves us wrong. And while it is inconsistent and fleeting, it only takes one good over-night freeze to cost you hundreds from a frozen pipe, busted sprinkler head, cracked valve, or bursting pressure vacuum breaker.
At Minimum: You must turn your system off and drain all the water out. Make sure you drain your pressure vacuum breaker too!
For the most reliable protection, a full system winterization is best. Using pressurized air, we'll make sure to clear all the lines of all the water to avoid any potential freeze issue. Trust the pros to be sure it is done right!
Burst Pressure Vacuum Breakers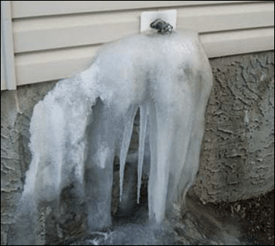 On a frigid night in January you grab an extra blanket and turn the heat up. Avoiding going outdoors in the morning, you are enjoying a warm cup of coffee and your favorite fuzzy slippers, thinking it is not too bad having a couple of cold days.
Until the doorbell rings. A neighbor was walking their dog and is alerting you to the geyser that is shooting water out of the side of your house. A geyser? What could it be? It turns out your pressure vacuum breaker burst from frozen water inside it, and now the water is just shooting out, flooding your yard and creating a miniature ice rink.
Don't let this happen to you! Call us today to have your system prepared for winter.
Posted By
Conserva Irrigation of North Houston
Categories: