Lush Spring, Texas Lawns Deserve Gorgeous LED Landscape Lighting
You've trusted us with optimizing your irrigation system so you can enjoy a lush and healthy lawn and landscape with less effort and less water usage. Now it is time to trust our sister brand, Outdoor Lighting Perspectives to illuminate that beautiful lawn for all to see with custom, professional landscape lighting.
The Benefits of Professional Landscape Lighting at Your Home
Beauty
The number one benefit of adding landscape lighting to your home is the beauty of it! Don't be shy. Show off your gorgeous landscaping with a custom landscape lighting system that is built to last. Think of what you want people to see the first time they visit your home. If they arrive after sunset, what will that first impression be? With landscape lighting, your property may even shine more brilliantly at night than it does during the day.
Curb Appeal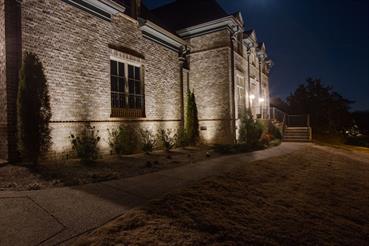 While your neighbors might be jealous of your new landscape lighting, they will appreciate the gorgeous curb appeal. When homes exude perfect curb appeal, the whole neighborhood benefits from increased desirability and home values. With copper or brass landscape lighting to illuminate your front yard, you take your curb appeal from day to night while providing a warm welcome to visitors.
Value
Landscape lighting adds value to your home. Increased curb appeal, safety, and security makes your home more desirable and is a great investment for your life now and a potential future home sale.
Nighttime Enjoyment
Stunning patios, expansive decks, brilliant pools, and cabanas – Texas outdoor living is almost a year-round affair. But without landscape lighting, you'll lose function at sunset. During the winter months, that could mean you get very little use out of your favorite places when the sun sets too early. We provide the best patio lighting, deck lighting, and backyard landscape lighting to make sure you can enjoy your outdoor living spaces at night.
We almost forgot your beautiful lawn and landscape. That is a sight to behold at night too! With the perfect focal lighting and landscape lights your gorgeous lawn, flowers, trees, and shrubbery will be a sight to behold after the sun goes down.
Safety & Security
The functional benefits of landscape lighting might not be so glamorous, but everyone benefits from a safe and secure feeling at home. Whether it is lighting around the perimeter of your property for visibility, path lighting on your walkways or exterior home lighting near all your entry points, with landscape lighting you'll deter break-ins and provide safe footing for your family and guests.
Don't wait another minute. Call today for FREE landscape lighting nighttime demonstration at your home!
Posted By
Conserva Irrigation of North Houston
Categories: