Spray Heads, Nozzles, and Rotor Heads - How the Most Common Irrigation Issues Can Cost You
While no two lawn sprinkler systems are alike, there are some common issues that need regular monitoring and potentially repair. If your system runs pre-dawn, don't sweat it, we can monitor it for you with a regular inspection or maintenance call just to double-check everything. But, if you feel comfortable observing your irrigation system, here are the things you should watch for:
Broken Spray Heads
Lawnmowers, rakes, and other accidental bumps by humans can cause a spray head to break. If not that, a seal may dry out from time, or become dysfunctional due to sand or grit. If your spray head is not operating, the most cost-effective repair is a sprinkler head replacement. And when you choose Conserva, you'll get a one-year warranty on the new part. You'll also get a more efficient spray head than you previously had which will save you water - saving you money.
Broken Rotor Heads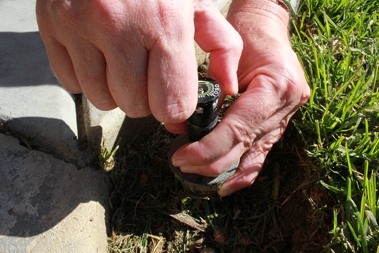 Again, lawnmowers or other lawn equipment, human traffic or animals can cause a rotor head to break. You may also experience a bad seal from external damage, sand, grit, or from the rubber drying out over time. You may also have a rotor head that won't rotate due to wear over time, or sand and grit interfering. Sometimes we can clean out the sand and repair the existing rotor head. Often though, it is most cost-effective to replace it with a more efficient, warrantied new rotor head.
Clogged Spray Nozzles
Whether from irrigation water sediment or from the landscape surrounding it, nozzles can become clogged. Sometimes it happens right after installation or when landscapers come in and do some yard work for you. While we theoretically could clean it out for you, it typically takes just as much time (and labor) to clean it out as it does to replace it with a new model. But, the new model will be more efficient and comes with a 1-year warranty. So, while the cost will be the same to you upfront, you'll enjoy water savings long term with a new nozzle.
It is urgent to seek sprinkler repairs as soon as you suspect an issue. If water that is being pushed through to a broken head or nozzle isn't finding its way out, it can cause damage to other parts of your system. And more importantly, that water can leak out at a potential waste of 6,300 gallons of water in a month. A costly waste of limited resources.
Call our team today if you need an irrigation repair in The Woodlands, Spring or anywhere else in the North Houston area.
Posted By
Conserva Irrigation of North Houston
Categories: