Make Your Dream Lawn A Reality: Tips For Watering Grass Seed
Your vision: a beautifully inviting green lawn. How do you nurture new grass seed to make that vision reality? The secret is in the irrigation plan. Use these tips for grass seed and its care.
Preparing to Seed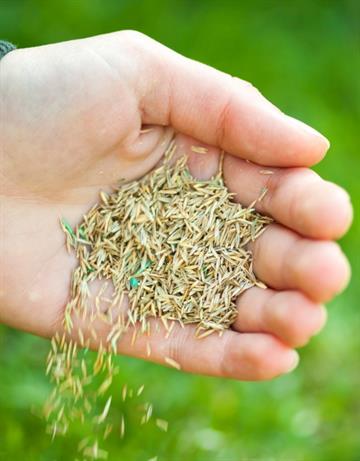 Water the area you'll seed. Moist ground helps the grass seeds establish roots and prevents dehydration.
A few days before you seed, water the planting area to a depth of 6-8 inches. Add some compost to give your seeds a boost. Let the area dry completely before you plant.
Watering New Grass Seed
New seeds are vulnerable and require both the right temperature and moisture. Watering new grass seed is critical because if the seeds dry out, they die.
After you sow the seeds, water immediately. The soil should be moist—not soaking wet, not puddling—to a depth of about 2 inches. Keep the seeds moist from here on, until they germinate.
Water Early, Water Often
If rain doesn't provide adequate moisture to keep the seeded area moist, water twice daily to moisten the top 2 inches of soil.
Water in the coolest parts of the day, generally morning and evening. Don't overwater! The key to a lush yard is to keep seeds moist, not soggy. About 10 minutes of watering new grass seed twice daily is about right. If temperatures get especially hot, you may need to water more often; water when the soil is getting dry.
Once You See Green
When the seeds germinate and develop roots, continue watering lightly for about a month. Water when you feel the soil starting to become dry. Water less frequently and more deeply. Increase morning watering and cut back evening watering, eventually eliminating it. Remember that shady areas likely need less water. Once the seeds are established, water 1-2 times weekly, delivering a combined total of about 1 inch of water, including rainfall.
Your irrigation system can provide the right amount of moisture at the right time and help produce your dream lawn. A properly scheduled sprinkler system also prevents overwatering, underwatering, uneven watering and runoff.
Call Conserva Irrigation of North Houston today for all of your irrigation and sprinkler system needs. An efficiently running sprinkler system is one of the most important steps in nourishing a newly seeded lawn. 281-402-3100 We look forward to hearing from you.
Posted By
Conserva Irrigation
Categories: