Is Not Watering My Lawn Good for the Environment?
It has crossed our minds and even been said aloud, how are we conserving water if we are helping people water their lawns – seems like a vain waste of a limited resource?
Let us be honest here, for some, the motivation is vain. Many want the best-looking lawn on the block. And who can blame them? There is nothing quite like a weed-free, lush, green, freshly-trimmed lawn for sprucing up your home's curb appeal and making the whole neighborhood look nicer.
But what you may not realize, is there actually is ecological value to keeping your lawn from dying during times of drought.
Grass prevents erosion that can, over time, significantly affect local habitats and plant life.
Grass reduces greenhouse gas. Just like trees and other vegetation, grass converts CO2 to Oxygen.
Grassroots filter water. As rainwater and other water makes its way from the surface into the groundwater, grass reduces the contaminants in it.
Many small animals could not survive without the habitat created by a living lawn. Insects, birds, and rodents are a vital part of the ecosystem.
Grass reduces Earth's surface temperature. Bare soil would be 14 degrees warmer on a hot summer day than the lawn.
Grass provides cleaner breathing. Just like most plant-life, grass absorbs pollutants right out of the air before you breathe it.
While we think this list of six ecological benefits of a living lawn is enough to convince most people, there is one more vital factor to consider before you decide NOT to irrigate your lawn with a sprinkler system.
Did you know? Dry, hard ground in a severe drought can actually cause your home's foundation to crack? Irrigation can actually keep your home's foundation more secure.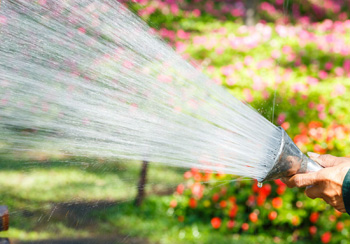 Can you Really Resist Watering a Dying Lawn?
When the weather is just a little dry or the lawn starts to die a little, chances are you may decide to water it spontaneously. The water use of an inconsistent watering schedule is significantly less beneficial than appropriately scheduled consistent lawn irrigation. Additionally, two things are likely to happen,
over-watering is often the case with a garden sprinkler
Runoff is likely to be greater if your soil has dried out and hardened,
making more of that water run directly down the sidewalk and into the sewer with zero benefits.
Don't think that not keeping your lawn alive is the better choice for the environment. The environment needs grass, and we can help you keep yours alive and well with the most efficient irrigation system in Spring, The Woodlands, and all North Houston.
Call (281) 843-8465 today for repairs, upgrades or service.
Posted By
Conserva Irrigation
Categories: