Why Texas Drought Water Restrictions Work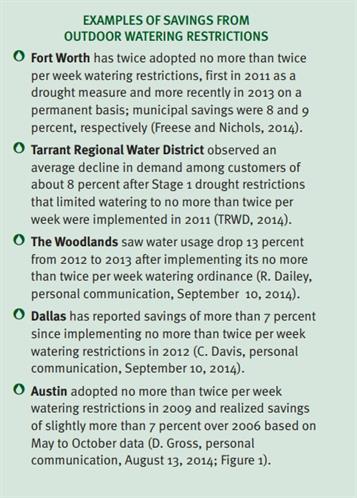 The severe droughts here in Texas make water usage a major concern for everyone. Local governments have made it a high priority to save water in any way possible, and one such method of conservation has been in the form of drought water restrictions. Drought water restrictions may seem like a nuisance, but they are actually quite effective at aiding water conservation. It is imperative to save as much water as possible, and taking whatever measures necessary to do so should be every Texan citizen's prerogative. Here are the numbers to show why drought water restrictions are a good method of helping conserve water.
Water restrictions tend to come about as drought ordinances only, but many communities have come to adopt them as a year-round protocol. The cities and towns that have adopted these policies have been reporting large amounts of water savings. These drought water restriction policies are usually paired with the time of day restrictions for watering as well. These policies also tend to ban wasting water through things like runoff or watering impervious cover. There are many cities that have adopted the twice per week watering limit that has produced great results.
Examples of Savings From Outdoor Watering Restrictions:
Fort Worth has twice adopted no more than twice per week watering restrictions, first in 2011 as a drought measure and more recently in 2013 on a permanent basis; municipal savings were 8 and 9 percent, respectively (Freese and Nichols, 2014).
Tarrant Regional Water District observed an average decline in demand among customers of about 8 percent after Stage 1 drought restrictions that limited watering to no more than twice per week were implemented in 2011 (TRWD, 2014).
The Woodlands saw water usage drop 13 percent from 2012 to 2013 after implementing its no more than twice per week watering ordinance (R. Dailey, personal communication, September 10, 2014).
Dallas has reported savings of more than 7 percent since implementing no more than twice per week watering restrictions in 2012 (C. Davis, personal communication, September 10, 2014).
Austin adopted no more than twice per week watering restrictions in 2009 and realized savings of slightly more than 7 percent over 2006 based on May to October data (D. Gross, personal communication, August 13, 2014; Figure 1).
Local Water Restrictions Yield as Much as Thirteen Percent Water Savings
Fort Worth adopted this restriction in 2013 and has seen 8-9% water savings. The Woodlands observed water usage decrease by 13% when implementing their water restrictions. Dallas implemented a twice per week watering ordinance and saw a decrease in water usage by 7%. Austin did the same and also saw more than 7% of their water usage conserved. When the drought was bad in Austin in summer 2012 and summer 2013, they enacted a once per week drought water ordinance and saw an even greater increase in water savings. These ordinances may seem like a nuisance, but rest assured they are helping to conserve water.
If you're struggling to get your irrigation on the right schedule for your municipality, call Conserva Irrigation of North Houston today at (281) 843-8465. We can come out and set your timer, we also offer upgrades, retrofits, repairs, and inspections to help make your sprinkler system more efficient.We look forward to hearing from you.
Posted By
Conserva Irrigation
Categories: