IT'S SPRINKLER BLOWOUT SEASON IN MINNESOTA!
Winter is harsh, especially on your Minneapolis irrigation system. As we prepare our homes for the winter months it is especially important that we get our irrigation system winterized. Our goal is to not let any irrigation system go un-winterized that is why we offer our irrigation winterization for only $85!
During our Minneapolis irrigation winterization, we will:
Turn off the water supply to the sprinkler system
Evacuate all water from the sprinkler system
Turn off the controller to the sprinkler system
Assess the condition of the sprinkler system
Create a sprinkler Winterization Report
Leave behind an estimate for sprinkler repairs
Answer any and all questions that may come up during the sprinkler blowout
Leave you with the confidence of our No Freeze Damage Guarantee™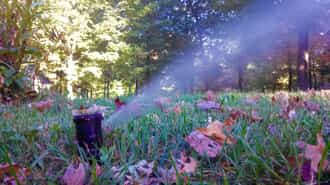 The winterization process is the perfect time to find hidden issues you might have been experiencing all season long with your sprinkler system. Every time we perform a Minneapolis winterization blowout we use pressurized air to locate broken sprinkler heads or line leaks.
If bubbles appear at the surface of the sprinkler head this will alert our technician of potential issue and report this on your winterization system efficiency evaluation. This report will be used by one of our Conserva Irrigation technicians in the spring time when it comes time to summarize your irrigation system.
Call Conserva Irrigation Twin Cities at 763-434-5414 or email us at twincities@conservairrigation.com to schedule your Minneapolis sprinkler winterization. We look forward to working with you!
Posted By
Conserva Irrigation of Twin Cities
Categories: