Use 60%* Less Water on Irrigation
We help homeowners become more environmentally responsible while sustaining healthy lawns.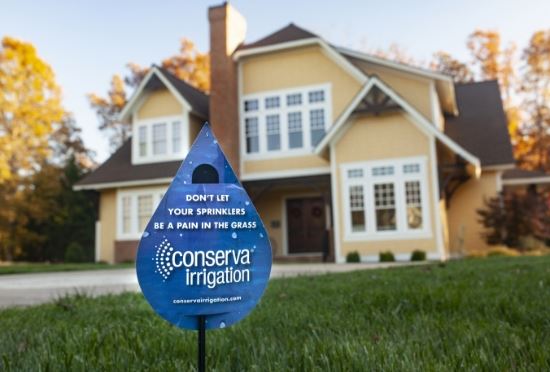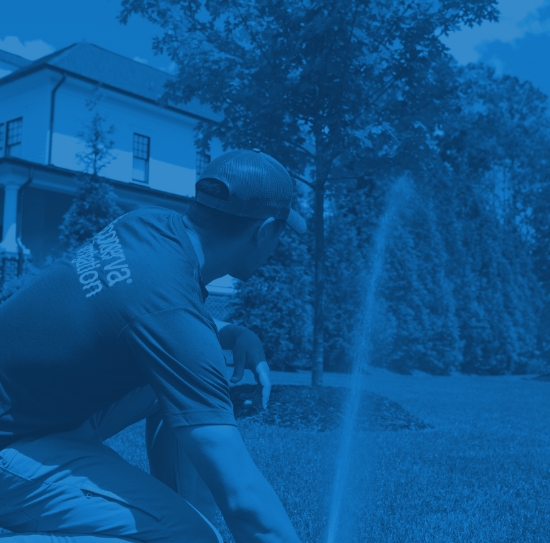 Lawn Irrigation Services in Doylestown, PA
Sprinkler Repair & Drainage Solutions
Proper lawn irrigation and reliable sprinkler systems are key components to a healthy landscape. Not only can poor irrigation lead to dry grass, dead plants, and a less than desirable appearance, but the system may also be wasting gallons of water every day, driving up your monthly bill.
With the help of our lawn irrigation experts in Doylestown, Newtown, and Blue Bell, you can keep your lawn green and bills lowered all while conserving one of the world's most precious resources – water.
Sprinkler and irrigation systems are all we do at Conserva Irrigation of Delaware Valley and we do them well. Whether you're looking to have your current system upgraded, a sprinkler head repaired, or a system designed and installed specifically for your property, our team is prepared to do it all.
Our service technicians are true lawn irrigation experts, specializing in the most traditional and newer sprinkler systems in both residential and commercial properties.
Call our irrigation company at(267) 609-3083 or contact us online for irrigation services in Doylestown, PA.
---
Delaware Valley Irrigation Services
Irrigation Repair and Installation
Conserva Irrigation is known for our quality irrigation repair and installation, all with a focus on water conservation.
Drainage Solutions
Poor drainage can have devastating effects - it has the potential to cause serious damage to your landscaping and the foundation of your home or commercial building. We provide irrigation inspections and drainage solutions near you.
Sprinkler Repair Services
Common sprinkler problems can also include cracked sprinkler heads, severed water lines, and programming errors. Our sprinkler repair services include a complimentary sprinkler system inspection.
Blow Out Sprinkler System
A blowout sprinkler system helps protect your outdoor space during the cold winter months. We use high-pressure air to remove any residual water from the pipes and sprinklers in your system, preventing them from freezing over the winter. This is an important step for ensuring that your system remains in good condition throughout the year.
Our technicians will walk you through the process and help ensure that all of your sprinkler needs are properly taken care of so you can have peace of mind knowing that your property is safely maintained.
Contact us online today for more information about all of our irrigation services!
Meet the Owner, Bob Foote
Trusted Irrigation Company in Delaware Valley
When you reach out to us for Doylestown irrigation repair, installation, or maintenance services, our irrigation company has established a system that keeps you informed every step of the way. With thorough inspections and detailed reports, we'll help you keep your lawn and wallet green. We take the time to listen to every one of your concerns to make sure we leave you completely satisfied with our services.
We also provide you with free, flat rate estimates on any upgrades or tune-up services our team may think you will benefit from, from drainage solutions to sprinkler systems. When you're ready to learn all we can do, give our Delaware Valley team a call today!
Residential & Commercial Sprinkler Repair & Installation
Sprinkler systems are essential for both commercial and residential properties as it ensures that your outdoor space is properly maintained and kept in good condition. A well-maintained sprinkler system helps keep lawns green, keeps pathways safe, reduces water loss, and improves the overall safety of a property.
With malfunctioning sprinkler systems causing tons of damage and loss of money, we understand how important it is to have experts who can get the job done right. At Conserva Irrigation of Delaware Valley, we provide residential and commercial services for all your sprinkler repair and installation needs in Doylestown. Whether you require your first sprinkler system, an expansion, or even a replacement, or need our team to handle broken sprinkler heads, leak detection, and repairs, we can accommodate all your sprinkler needs with meticulous attention to detail and ensure that you have a reliable and efficient system that will last for years to come.
Our experts use only the highest quality materials and the newest technology, so you can rest assured that your system is being repaired or installed with superior care and expertise. With Conserva Irrigation of Delaware Valley, you can trust that we'll always provide prompt responses, reliable services, and lasting sprinkler system repairs so you can stop worrying and start enjoying your outdoor space again!
About Doylestown, PA
Doylestown is a borough in Pennsylvania that serves as the seat of Bucks County. As of July 2021, the population of Doylestown was 8,250 residents, staying relatively steady throughout the past decade since the U.S. Census Bureau's April 2010 population estimate of 8,380. The origins of Doylestown extend back to 1745 when a man named William Doyle built a tavern at a main thoroughfare between two towns. Soon, the area became a village.
A post office was built in 1802, and the town finally became an official borough of Pennsylvania in 1838. Doylestown and its neighboring community, Doylestown Township, are home to such attractions as Mercer Museum & Fonthill Castle, Bucks County Civil War Library and Museum, and the Pearl S. Buck House, which was built in the 18th century.
For sprinkler repair and installation services near you, call at (267) 609-3083 or contact us online to get started with a free sprinkler inspection.
Packages
Nice 'N Easy
Package

$225

Summerization

Winterization

10% Off System Upgrades

Priority Scheduling

Contact Us
Full Season
Package

$325

Summerization

Winterization

1 Mid-Season Inspection

10% Off System Upgrades

Priority Scheduling

Contact Us

What Our Clients Are Saying
"I have had the pleasure of working with Conserva Irrigation for 3 years. When they delivered their initial presentation to us, I was impressed how they clearly and professionally informed us about the services they offered. More importantly though, Conserva Irrigation has fulfilled, time and time again, the very services they shared with us three years ago."

Rachel T.

"I'm very pleased with the service from Conserva Irrigation. For the last year, my sprinkler system started to get a mind of its own and would cut on and off sporadically while a few of the heads were missing some parts of my yard. Two gents came by to take care of the to do list. Maintaining a yard is hard and your sprinkler system needs to be on point!"

Xerxes N.

"From start to end Conserva was professional and communicated well. They met and exceeded all of my expectation around getting my first sprinkler system. They are worth the money in every aspect. In the end I would highly recommend them to my family and friends."

Jacob L.
Read More