Twin Cities HOA Irrigation Services
Efficient HOA Irrigation Systems Use Less Water, Saving Every Homeowner Money
Are you wondering how you can stop your HOA fees from rising every single year? Are you pouring over the financial statement trying to figure out what might not be so necessary while still keeping property values up and the neighborhood desirable?
With the rising cost of a variety of services that Home Owners Associations rely on, annual dues have to go up to cover it. But, what if they didn't have to? What if there is an area where you can see some cost savings to potentially offset the increases? If your neighborhood has an irrigation system that is more than a few years old, chances are it is using more water than necessary. With massive innovations in SMART irrigation, there are savings to be had. And depending on the size of your neighborhood, using less water can result in a markedly lower water bill.
Common HOA Sprinkler System Inefficiencies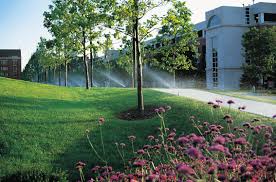 We urge you to separate your irrigation system service from your lawn care service so you can get the irrigation pros on your side! We are highly-trained in complex residential and commercial sprinkler systems with the main goal of water conservation. That means we do everything we can to ensure your sprinkler system doesn't use one drop more water than your lawn and landscape needs to stay healthy.
Through system repairs and upgrades such as new weather and rain sensors, innovative controllers, and efficient sprinkler heads, your HOA could see a reduction in water use by 30-40% the very first year!
One of our Southeast locations recently measured the results of just a partial upgrade to an HOA irrigation system, and the savings are astounding. The year before we began upgrades, the HOA spent $15,000 on water for irrigation. The following year, after our updates, they only spent $6,432, and their lawns and landscapes are as beautiful as ever! That is a 57% savings!!
Imagine what an upgrade to SMART irrigation could mean for your community in savings over a few years!
We are pleased to provide a full menu of commercial irrigation services to all types of businesses, neighborhoods, and municipal properties in the Twin Cities. Including repairs, upgrades, and regularly scheduled maintenance.
With Conserva Irrigation of the Twin Cities as your HOA's irrigation system partner, you can enjoy the healthiest lawn and landscape in your community all while keeping the cost of irrigation as low as possible. Call today to get started with a system assessment.
Posted By
Conserva Irrigation of the Twin Cities
Categories: