Sprinkler Repair in Franklin
We're Your Local Sprinkler System Service Experts
From dead grass to unexplained puddles of water in the middle of the lawn, a malfunctioning sprinkler system is never a good sign for your landscape. In order to get your system's performance and efficiency restored and ensure the beauty of your lawn is preserved, partner with Conserva Irrigation of Nashville South for help!
Our team is always ready to handle any sprinkler problem you may have encountered. We've solved big and small problems, and we're completely dedicated to ensuring that your system gets the proper repairs or upgrades needed to thrive again!
Need reliable sprinkler repair near you? We can help. Call us at (615) 857-4359 or request your service online.
Does Your Sprinkler System Need Repair?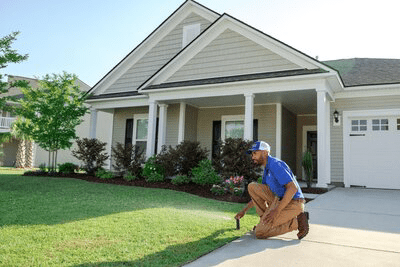 Find yourself struggling to keep your lawn watered properly or worry over what your sprinkler system will do? It may be time to have your system inspected and repaired.
Some of the most common signs your sprinklers should be repaired include:
Uneven watering
Loss of water pressure
Puddles of water on lawn
Unexplained spikes in water bill
Sputtering sprinkler heads
Stuck sprinkler heads
Excessive water runoff
Wet driveways and sidewalk
As soon as you notice a problem with your sprinklers, have things repaired before using the system again to avoid wasting dozens of gallons in water. Running sprinklers with even just one busted sprinkler head can cost up to 20 gallons of water per minute!
Find the Problem with Our Proprietary Sprinkler System Efficiency Evaluation
While some signs that repair is needed are obvious, some often slide under the radar or are written off as minor inconveniences. When you request service from our team, we'll start off by completing our Proprietary Sprinkler System Efficiency Evaluation.
Some things our team will check for and inspect include:
Broken heads
Head adjustments
Sprinkler line leaks
Design issues
Precipitation rate
Backflow prevention
Pump problems
Rain and soil sensors
This inspection and assessment of your sprinkler system will provide us with your system's System Efficiency Score, guiding us as to how best to serve your property. The solutions we recommend will help you cut back on water waste and save you time, money, and stress!
Contact us online or call us at (615) 857-4359 to schedule your service. We tailor our sprinkler system repair with your needs in mind.
Sprinkler System Installation in Franklin
Are you growing an expansive garden or lawn and need a sprinkler system installed? Or does your existing sprinkler system need an upgrade?
At Conserva Irrigation of Nashville South, we can:
Install a brand new system,
Upgrade your existing system
Expand upon your existing sprinkler system
Start by booking your complimentary sprinkler inspection. From there, we'll meet with you to assess your lawn's topography and get the info needed for an exact quote.
Our new sprinkler systems are designed to conserve water. In fact, a new sprinkler system designed by Conersva can reduce water usage by 40-60% compared to traditional sprinklers.
With us - we help save you money while ensuring your lawn receives the perfect amount of water.
Need sprinkler system installation near you? We back our service with a satisfaction guarantee. Call us at (615) 857-4359 or contact us online to book your service.
Request Your FREE Sprinkler Inspection Today!
Let Conserva Irrigation of Nashville South inspect your sprinklers today! We'll find the problem, fix it quickly, and make sure your system is free of anything that'll cause future issues or is currently ruining your system's performance.
Homeowners throughout Franklin love Conserva already because we're:
Experienced in servicing every aspect of sprinkler systems
Fully equipped with the tools and parts for the job
Professionally trained, experienced, and insured sprinkler technicians
Backed by a national sprinkler company with over a decade of experience
From the beginning, your sprinkler service will be tailored to meet the needs of you and your property. Even after your repair is completed, we can follow up with regular sprinkler maintenance to ensure that your system will continue to run at peak efficiency throughout the whole year!
Contact us online or call us at (615) 857-4359 to request your sprinkler inspection and repair services in Franklin!