Areas We Serve
Ashburn
Berryville
Bluemont
Hamilton
Leesburg
Lovettsville
Paeonian Springs
Purcellville
Round Hill
Sterling
Waterford
and the surrounding areas
Use 60%* Less Water on Irrigation
We help homeowners become more environmentally responsible while sustaining healthy lawns.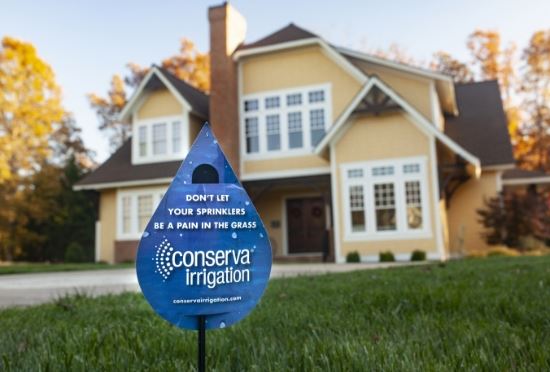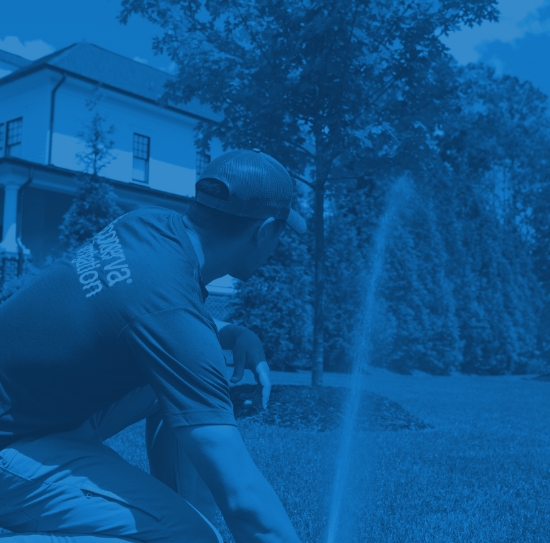 Lawn Irrigation Systems in Leesburg & Sterling
Sprinkler System Repair, Installation & Maintenance
Imagine a way to make sure your lawn gets the exact amount of water it needs to stay looking great. All while lowering your water usage. At Conserva Irrigation of Leesburg-Sterling, our Leesburg irrigation company offers commercial and residential irrigation services that do exactly this!
Whether you're dealing with under-watered, overwatered, or dry and dead grass. Our team will perform a full sprinkler system inspection and the rest of your property. We'll provide a complete report of our findings. Then recommend specific irrigation and sprinkler system services to help you conserve water. Reduce your water waste. And lower your monthly bill.
Many of our local customers call on us for drip system installation, sprinkler system repair and general lawn irrigation services in and around Leesburg.
Stop wasting water and money on your law's irrigation system! Dial (571) 200-3580 or contact us online for your free sprinkler system inspection!
Our Irrigation System & Sprinkler Services
We have all your irrigation and sprinkler needs covered!
We're locally owned and operated by Ivan Russell. He has over 14 years of irrigation experience. You can count on Conserva Irrigation of Leesburg-Sterling for quality service.
Our irrigation services include:
Sprinkler repair
Backflow testing
Mid-season inspections
Signs You Need to Repair Your Irrigation in Virginia
Your sprinkler system is designed to keep your grass and landscape green and healthy without having to water them yourself. However, many homeowners and business owners do not even think about their irrigation until there is a problem.
Here are several warning signs that you need to repair your irrigation system in VA:
Inconsistent or uneven watering (e.g., standing water in lawns, brown or dry spots, and wet roads and sidewalks)
Sputtering or erratic sprinkler heads spraying away from their intended path
Changes or loss in water pressure
Dripping or leaking control valves
Increased cost in monthly water bills
To ensure your irrigation system is running at peak efficiency all year round, you should sign up for our routine maintenance package. Regular maintenance can increase the lifespan of your sprinkler system and help you avoid costly repairs in the future.
Looking for Irrigation Maintenance Packages?
We also offer irrigation and sprinkler maintenance packages at an amazing value.
Investing in an irrigation maintenance package can:
Help ensure your irrigation or sprinkler system is efficient and effective
Help you maximize water usage and save on your water bill
Help you get "ahead of the 8-ball" on any potential irrigation system issues
Learn more on our irrigation packages page!
Get started today by booking your free sprinkler system inspection. Call us at (571) 200-3580 or contact us online! We look forward to serving you.
What Makes Our Irrigation Company Different?
Conserva Irrigation of Leesburg-Sterling offers irrigation services that go far beyond lawn sprinkler system installation. We're a comprehensive irrigation company. We're prepared to provide you with any and all the services needed to repair damaged irrigation. Upgrade current systems or prepare sprinklers for a change in temperature. Whatever you need, we'll be there to help!
Customers love us because of our:
Advanced Solutions – To give your yard the exact water it needs, our irrigation systems use precise water control. This advanced technology, such as automatic sprinkler systems, cut down on water waste. But makes sure your lawn stays green in the process.
Team of Experts – Irrigation is all we do, and we do it well. We have decades of irrigation experience and knowledge. Our team's prepared to service any type of irrigation system you have installed. Plus, we're always available to answer your sprinkler questions and offer advice.
Mission to Conserve Water – We're the only irrigation company founded on conserving water for future generations and know about Sterling and Leesburg water usage regulations. With our eco-friendly services, our customers experience a 40% - 60% drop in their monthly water usage!
If you're ready to join the other property owners throughout Leesburg, Sterling, and the surrounding areas who have turned to Conserva for irrigation service, call us to request your free sprinkler inspection! For information on Leesburg water usage feel free to call us anytime.
How do Sprinkler Systems Work?
Sprinkler systems are designed to help keep your lawn and gardens looking lush and green. These systems usually consist of a water supply, pipes, valves, spray heads and control devices. The water supply is connected to a valve that controls the flow of water through the system.
The pipes then carry the water from the valve to each individual spray head or nozzle throughout your yard. Each individual spray head can be adjusted for different areas of your yard with varying amounts of pressure and coverage area. Control devices allow you to adjust when and how much water is used on certain areas at different times, allowing you to conserve water while still keeping your plants healthy.
With proper maintenance and usage, sprinkler systems make keeping up with your lawn's watering needs easy and efficient. To ensure your sprinkler system is in tip-top shape, contact the irrigation and sprinkler experts at Conserva Irrigation of Leesburg-Sterling.
Give us a call at (571) 200-3580 to request your appointment now.
Packages
Nice 'N Easy
Package

$280

Summerization

Winterization

Spring Inspection

10% Off System Upgrades

Priority Scheduling

Contact Us
Full Season
Package

$480

Summerization

Winterization

Spring Inspection

2 Mid-Season Inspection

15% Off System Upgrades

Priority Scheduling

Contact Us

What Our Clients Are Saying
"I have had the pleasure of working with Conserva Irrigation for 3 years. When they delivered their initial presentation to us, I was impressed how they clearly and professionally informed us about the services they offered. More importantly though, Conserva Irrigation has fulfilled, time and time again, the very services they shared with us three years ago."

Rachel T.

"I'm very pleased with the service from Conserva Irrigation. For the last year, my sprinkler system started to get a mind of its own and would cut on and off sporadically while a few of the heads were missing some parts of my yard. Two gents came by to take care of the to do list. Maintaining a yard is hard and your sprinkler system needs to be on point!"

Xerxes N.

"From start to end Conserva was professional and communicated well. They met and exceeded all of my expectation around getting my first sprinkler system. They are worth the money in every aspect. In the end I would highly recommend them to my family and friends."

Jacob L.
Read More