Sprinkler Winterization in Huntersville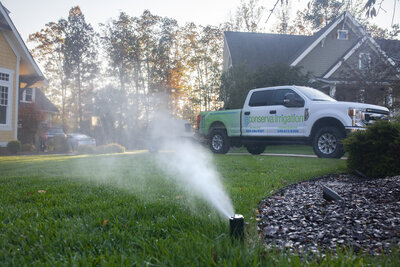 Also known as "sprinkler blowout", sprinkler and irrigation winterization gets your system ready for the cold winter temperatures.
Just like pipes can freeze in your house, your sprinkler system pipes are even more susceptible to freezing since they're outside.
Essentially, all of the remaining water is blown out of your sprinkler pipes to help prevent that water from freezing and damaging your sprinkler system.
With our sprinkler winterization service, we'll:
Turn off the water supply to your sprinkler system
Blow all of the water out of the pipes
Power down your sprinkler system
Check the condition of your sprinkler system
Create a thorough winteirzation report and discuss any repairs that may be needed
For your peace of mind, we back our sprinkler winterization services with our No Freeze Damage Guarantee™.
At Conserva Irrigation of Lake Norman, we can winterize any sprinkler or irrigation system brand - even if we didn't install it.
Call us at (704) 960-1565 or reach out online to schedule your sprinkler winterization service. We deliver unparalleled and professional service.