Irrigation Services in Green Bay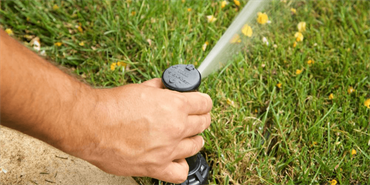 How much would you be willing to pay for Conserva Irrigation of Green Bay to perform a top-to-bottom, comprehensive sprinkler system inspection? Well, the good news is that we already offer a 100% FREE sprinkler system inspection. Think about it, when was the last time you had your sprinkler system analyzed to ensure that all your sprinkler heads were working properly and that you didn't have any line leaks? You more than likely can't remember, and that means it's time to call Conserva Irrigation for your complimentary sprinkler system inspection.
What's Included in Our Free Sprinkler System Inspection
During the irrigation system inspection we will:
Fully analyze your sprinkler system, from top to bottom
Visually check to ensure that each and every sprinkler head is operating effectively and efficiently
Perform a close-up inspection of each sprinkler head to detect any cracks or leaks
Complete a System Efficiency Score analysis
Lastly, we'll provide you with a written overview of inefficiencies found in the sprinkler system and an estimate for repairs
Inspections are essential to ensuring your sprinkler system isn't wasting thousands of gallons of water each year.
Sprinkler System Repairs
Have you ever experienced any of the following issues?
Your sprinkler system is running full-throttle during a rainstorm
Your lawn is drying out or showing discoloration in certain spots
Water pooling around your sprinkler heads
Your plants and vegetation not receiving enough water
Your sprinkler system controller seems to have a mind of its own, no matter how many times you've tried to program it...
We will inspect your property and repair any issues we find with your Green Bay sprinkler system.
If you're interested in one of our maintenance packages give us a call at (920) 626-8275!
Sprinkler System Installations
Conserva Irrigation will professionally assess, design and install your irrigation system.
We will:
Gather information about your property (sun exposure, shade, soil type, etc.)
Professionally design each zone to meet your lawn & landscape's needs
Install your irrigation system as quickly as possible while maintaining cleanliness on your property
Clean up & leave your property looking better than when we arrived