Irrigation Services in Fort Lauderdale
The Premier Irrigation Repair Company in Pembroke Pines, FL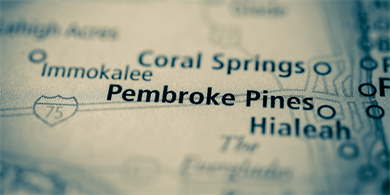 At Conserva Irrigation of Fort Lauderdale, we provide the most in-depth, comprehensive residential irrigation system evaluations in the industry. What would it take for you to have your home's irrigation system inspected? Would your sprinkler system have to be completely inoperable before you called an irrigation specialist to evaluate your system? What if we told you our comprehensive irrigation inspection is 100% FREE? That's right, we offer a free sprinkler system inspection designed to properly diagnose your irrigation system's issues. If your irrigation system's operating poorly, then give us a call and we'll inspect your Pembroke Pines system for free.
Our Irrigation Experts Will Build a Plan to Optimize Your Irrigation System
In addition to fully evaluating the efficiency and effectiveness of your Pembroke Pines, FL irrigation system, we'll also perform all necessary, critical irrigation repairs on your system and show you options for further optimization of your system's efficiency. At Conserva Irrigation of Fort Lauderdale, we offer the most innovative smart irrigation technology in the residential irrigation industry.
Through our partnership with Toro®, we're able to upgrade your existing system with smart irrigation technology that can reduce your water usage for irrigation by 60%. Smart irrigation devices such as the Toro EVOLUTION® Smart Controller, ET® Weather Sensor and the Precision™ Soil Sensor, will ensure that your irrigation system provides your lawn and landscape with the perfect amount of irrigation and not a drop more.
Typical Irrigation Systems Can Waste Water
Most existing irrigation systems on the market are terribly inefficient. Due to overwatering and general inefficiencies, nearly half of the water utilized for irrigation is wasted. At Conserva Irrigation of Fort Lauderdale, we're bringing irrigation systems into the 21st century, one home at a time.
No matter what type of irrigation repair you need, you can count on Conserva Irrigation. In most cases, we'll be able to repair your sprinkler system's issues the very same day we arrive at your home to inspect your system. We carry all the necessary tools and equipment in our work trucks and vans, so you won't have to worry about a follow-up visit to get your irrigation system in working order.
Trust Conserva Irrigation for Affordable and Efficient Irrigation System Installation
If your home has an old lawn irrigation system or you're looking to install a new sprinkler system for the first time, our team of experienced irrigation technicians can provide reliable, money-saving solutions for peace of mind when it comes to your home's sprinkler system installation.
It might sound crazy, but there are some situations where installing a whole new irrigation system is the best way to prevent frequent, costly sprinkler system repairs and actually save money in the long run. You can rest assured that the team at Conserva Irrigation of Fort Lauderdale will go over all of your irrigation solution options with you so you can make an informed decision.