Birmingham Sprinkler Repair
Your Local Birmingham Experts for Sprinkler Services!
It's obvious that you need a sprinkler repair when you see a geyser in your front yard, but what happens if there is a problem below the surface? When your lawn is too soggy or too dry, you may recognize there's a problem, but in other cases you may need a sprinkler system repair and not even realize it.
Conserva Irrigation of South Birmingham services all sprinkler systems, regardless of brand, size, or who did the installation. If you see any of the following lawn sprinkler problems, you can count on us to get you up and running in no time:
System won't turn on
Broken sprinkler heads
Sprinkler system leaks
Watering while it's raining/sensor not working
Dry grass
Dry spots dotting the side of a long driveway
Grass is too wet
Mold/mushrooms growing in your lawn from over-watering
Weak/clogged heads
Zone won't turn on
System won't shut off
Zone won't shut off
Upgrade controller
Sprinkler controller programming
Spraying the house or road/adjust heads
Needs changes or repair after landscape changes
Sprinkler system tune-up/inspection
Vacuum breaker leaking
Vacuum breaker testing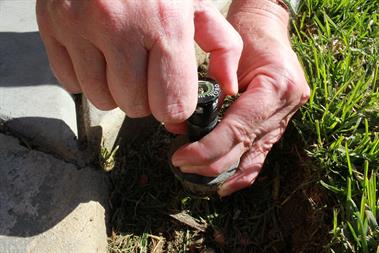 Professional Sprinkler System Repairs in Birmingham
While some companies may offer sprinkler repairs as one of several services, that doesn't necessarily make them sprinkler experts. For high-quality sprinkler repairs, it's important to work with a professional irrigation company with technicians who are experts in irrigation.
At Conserva, irrigation is all we do, and you can count on us to take care of your sprinkler repair to the highest-quality standard the first time. From a broken sprinkler head to a system shutdown, or anything in between, our certified technicians will diagnose the repair and get your system functioning as it should in no time.
From the moment we arrive, you'll see that we are different from other sprinkler repair companies in the Birmingham Area. You'll know it's us at your front door because you'll recognize our truck and we'll be wearing our Conserva uniforms. Our professional sprinkler technicians are certified, friendly, and on time, and their level of expertise and quality of service go unsurpassed.
Conserva Irrigation of South Birmingham's Lawn Sprinkler Repair Process
Sometimes what appears to be a simple fix may something else altogether, and often lawn sprinkler repairs can go undetected below the surface. Left unattended, these repairs can cause extensive damage, costing you hundreds, even thousands, of dollars in the future.
To make a proper diagnosis and stop the cycle of ongoing repairs, we perform an in-depth sprinkler system inspection at the time of repair at no additional cost to you. During the process, we evaluate your entire system, examining every sprinkler head in every zone, checking for leaks and line breaks, and assessing all system components for proper functioning and efficiency.
At the time of repair, we always keep water conservation in mind and look for opportunities to increase efficiency. Our goal is for you to maintain a beautiful and healthy landscape while doing your part for the environment and saving money in the process. If you have broken heads, leaks, line breaks, outdated components, or poor programming, you are likely wasting water and running up your water bill.
After we evaluate the system, we walk you through our inspection report and make you aware of any necessary repairs and ways to increase efficiency along with the associated flat-rate pricing. We'll also share some information about the latest in innovative irrigation technology from Toro® and answer any questions you have. When all is said and done, you'll have a complete understanding of your sprinkler system and what it takes to get it running at peak efficiency. At a value of $150, you can't go wrong.
If you're looking for high-quality sprinkler system repairs in the Birmingham Area, call Conserva today or complete our online form to schedule an appointment. We look forward to hearing from you!
Frequently Asked Questions
How much times does it take a sprinkler system to water 1 inch of grass?
That depends on your system set up and the size of your lawn,but usually about 20-30 minutes.
What time of day should I water my lawn?
Particularly during the summer, Morning before the sunrises. This gives the water time to penetrate and hydrate, but the morning sun evaporates exceed to stop pathogens from infiltrating your grass.
How often do I need to water my grass?
How often you water your grass will in part be determined by what your city's ordinances will allow. But to maintain a healthy lawn we generally suggest 2-3 times a week for 20-30 minutes.