Sprinkler Repair & Installation in Spring, TX
Are you ready to enjoy a lush, colorful lawn and garden and save money on utility bills? If so, you've come to the right place. At Conserva Irrigation of Northwest Houston, we install and repair sprinkler systems and help conserve water in the process. Our irrigation company was founded on the idea that water, Earth's most precious resource, needs to be saved. Every day, over 1.5 billion gallons of water is wasted. We find that unacceptable and want to do everything we can to help remedy this problem from sprinkler repairs to installing new more efficient sprinkler systems. Our Spring irrigation company helps residential and commercial customers reduce their water usage by up to 60% by installing sprinkler systems that use advanced technology to cut water waste.
To schedule your free sprinkler system inspection, reach out to us today at (281) 843-8465.
Conserva Irrigation of Northwest Houston is locally owned and operated yet backed by a national franchise network. We have access to the most advanced tools and technology in the industry. Our sprinkler systems offer premium performance, are long-lasting, and cut down on unnecessary water usage. If you currently have a system that is underperforming, our Spring sprinkler repair team can assess it and provide a quality fix.
Sprinkler System Leaks are Urgent
We make every effort to get to your urgent sprinkler repair need as quickly as we can. Some sprinkler leaks are urgent, and others are less so. If you are losing water and turning the water off did not stop the flow of water, call us immediately. Leave a detailed message, so we know the level of urgency for your sprinkler repair needs. We'll get back to you as soon as we can. Call now at (281) 843-8465!
Our Sprinkler Repair Services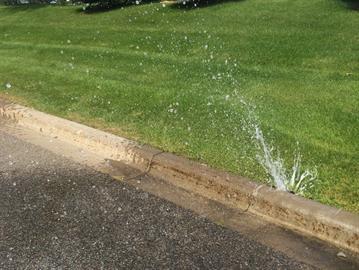 Conserva Irrigation of Northwest Houston is breaking the mold in the irrigation industry. Not only have we partnered with the most innovative irrigation parts company, Toro®. But we go the extra mile to make sure the most frequently needed sprinkler repair parts are well-stocked on our truck. From sprinkler heads to nozzles and the best SMART irrigation controllers, with every repair we make, your system will improve. It will become more efficient, saving water and saving you money! Toro also offers a 5-year warranty on all parts to give you piece-of-mind.
If your grass isn't looking as green as it used to, or if you are noticing soggy areas in your yard, you may have a problem with your sprinkler system. These are just two of the signs that you are in need of a repair. Conserva Irrigation of Northwest Houston is prepared to assess your system and determine the problem. Dry and soggy areas of your property are just two indicators. There are other signs that you may notice as well.
Some things to look out for:
Broken sprinkler heads
Overreaching spray
Water leaks
Inconsistent or uneven performance
Electrical malfunctions
Whether your sprinkler system was installed by us or not, we are confident that we can provide the appropriate repair. If we find that installing a new system is a better option, we will explain why and offer our suggestions. Ultimately, that decision will be left to you.
North Houston Sprinkler System Inspection
Has it been quite some time since you've serviced your The Woodlands' sprinkler system? Are you not sure if your system is running efficiently, needs reprogramming or could use some repairs? We offer a FREE sprinkler system inspection to address those concerns. Our expert technicians will complete a full Comprehensive system check-up to diagnose any problems. We'll also identify opportunities for system efficiency improvements. You'll receive a free estimate for urgent sprinkler repairs needed as well as flat-rate pricing for identified efficiency upgrades.
At Conserva Irrigation of North Houston, our goal is to give you a lush, healthy lawn using the precise amount of water needed. Our sprinkler systems on average use 40% less water, and the result is a lush, healthy, lawn and a lower water bill. Call today to find out how we can help you improve your sprinkler systems efficiency.
New Sprinkler Installations in Spring, TX
If you have an old sprinkler system that needs to be replaced or are looking for your first irrigation solution, Conserva Irrigation of Northwest Houston is happy to offer expert sprinkler installation services. Our team has worked with both home and business owners to design systems that accommodate all their needs. No two properties are the same, so it's important that the team you trust with this responsibility takes into consideration several important factors.
When creating your system, we'll assess the following:
Precipitation rate
Percolation rate
The slope of your property
The amount of sun and shade
Soil type
Your new system will not only deliver a lush and healthy landscape, but it will do so by using less water than other systems. You'll have the best-looking property on the block and enjoy decreased utility bills as well.
Contact Conserva Irrigation of Northwest Houston Today
When was the last time you had your sprinkler system inspected? Even the best systems require some repairs every now and then. Even if you believe it is working well, routine maintenance can help uncover any issues that may be lurking. Addressing them now could prevent problems in the future – and save you money on costly repairs.
Whether you own a home or manage a commercial property, you have enough to worry about without having to stress about your sprinkler system. When you trust our Spring irrigation experts, you can rest assured that your property will always look its best.
Help us cut down on wasted water. Reach out to us today at (281) 843-8465 to learn more.