Do You Live in Cypress and Need Sprinkler Services? Give Conserva of North Houston a Call.
Conserva Irrigation of North Houston Services All Cypress, Texas Sprinkler Systems
If you are in need of sprinkler system repairs, adjustments, or service and maintenance, give the certified irrigation technicians a call at Conserva Irrigation of North Houston.
Our customized smart irrigation solutions mean you won't use a drop of water more than you need for a lush and healthy lawn and landscape. We have built our reputation on professionalism, innovation, and responsibility. We are proud to serve Cypress, Spring, The Woodlands, and all of the north Houston areas with the best commercial and residential irrigation services available. Our certified technicians show up on time and ready to serve you. We can help your home or business use as much as 60% less water than a standard sprinkler system. With regular service and maintenance, and our system optimization, you can save big on your water bill.
Cypress, Texas Sprinkler Repairs
We have seen it all when it comes to sprinkler system repairs. Sometimes it's a matter of repairing a single broken sprinkler head. Other times we have to replace aging and leaking underground water lines. Our thorough free inspection makes us your best choice for sprinkler repairs. What you might think to be a broken sprinkler head could be a much bigger problem going unseen in the ground.
Did you know that one broken sprinkler head can waste as much as 20,000 gallons of water over the course of one year? Would you willingly pay for 20,000 gallons of water so you could just flush it down the drain? That is an expense no one wants to bare. At the first sign of an issue with your sprinkler system, give our dedicated irrigation team a call. Our team will arrive on time with a well-stocked truck to repair whatever urgent issues you are experiencing. We offer flat-rate pricing with no hidden, surprise costs. Sometimes irrigation issues go unnoticed. If you have not had your sprinkler system serviced in a few years, call us for a free inspection so we can find any potential Water waste caused by unseen leaks.
Cypress, Texas sprinkler system inspection
O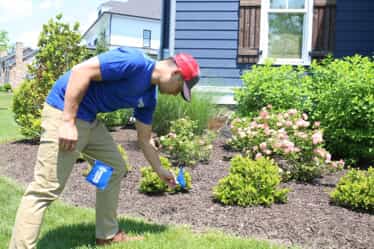 ur free sprinkler inspection is invaluable to home and business owners in Cypress. Our certified irrigation technicians will check every valve, every sprinkler head, every waterline, every pump, and every sprinkler controller, to ensure your system is running efficiently with no breaks or leaks.
Not only do we check your system for breaks and links, but we also evaluate your irrigation system for potential upgrades in technology and innovative water-saving parts. Our free inspection is always free with no obligation to purchase. We will provide you with a system efficiency score between 1 and 100 on how efficient your irrigation system is. As part of the system efficiency score, you will receive a detailed list of needed repairs plus potential efficiency upgrades and flat-rate pricing for each and every item. It is important to us that we arm you with the right information to make the best choices for your irrigation system and your budget. Give our team a call today to schedule your free system inspection.
At Conserva Irrigation of North Houston, we have a goal to make every sprinkler system in Cypress Texas as efficient as possible. Join the water conservation and money-saving effort today by choosing Conserva as your sprinkler system provider. Call today to schedule.
Posted By
Conserva Irrigation of North Houston
Categories: