Did you Know Drought.gov Can Keep You Up-to-Date on Local Drought Status?
Have you ever been the last one to get the memo? If you are busy as we all often are, you may not catch the local news. It can be challenging to stay aware of droughts and other important information. If your neighbor has ever stopped you to let you know he saw your sprinklers running the wrong day, you know what I am referring to.
Did you know there is a great and easy to remember resource for the latest drought information?
National Integrated Drought Information System

Drought.gov is home to the latest drought conditions information for the entire United States.
When you first enter the website, you'll see the current week's immediate drought statistics. At the time we wrote this, 8% of US land and 17.2 million people were in a drought. Below that it lists the Extreme, Exception, and Severe droughts of the week, which at this time included southern Texas.
Right on the home page, you can punch in your zip code and it will take you to the current conditions.
Or, you can go under regions and choose states to go to the Texas drought page. Arguably the most useful page on the website, the state map with color-coding drought status allows you to see all the counties affected by drought.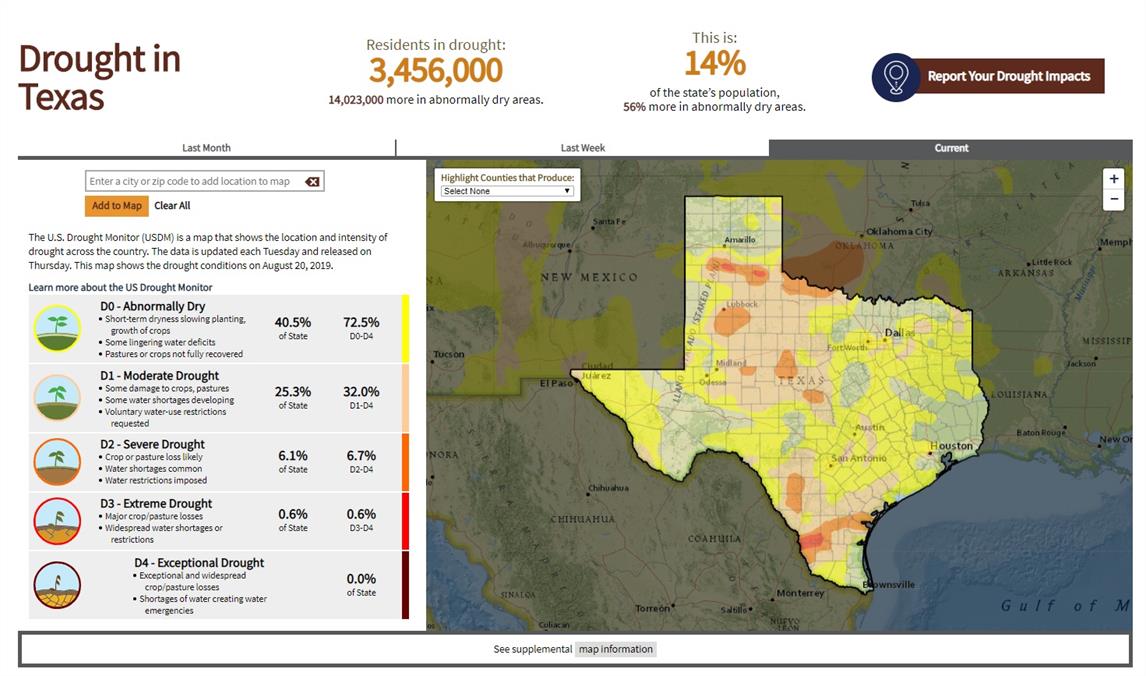 Below the maps is a slew of resources linking you to all of the relevant government offices in Texas such as Drought Planning, Drought Preparedness Council, Water Development Board and so on.
Current Drought Conditions Maps and Codes
For nationwide information there is an easy to read map under the current conditions menu, you can see (as of August 20) a D3 "Extreme Drought" in a small area in Southern Texas, while many portions of Texas are yellow and tan, denoting "abnormally dry" and "moderate drought".
Drought Outlook
They even have maps that predict the next month and the next three months to help you prepare for what is expected down the line. Just scroll down on the same page where the current condition maps reside.
Report the Drought to Help Your Neighbors
You'll see in several areas on the website a button "Report your Drought Impacts". It will take a few minutes to fill out the form completely. You can report impacts on crops, livestock, water supply, wildlife and fish, tourism and recreation, business and industry, fires, and community health.
Drought monitoring can only report what they measure in rainfall. There is no comparison to getting reports from people on the ground in the location. The more people that can contribute to the survey, the better the information online.
During times of drought, local municipalities will implement water restrictions. If you are unsure about your water restrictions or how to reprogram your irrigation system to meet the requirements, call our team today, we are always happy to help!
Posted By
Conserva Irrigation of North Houston
Categories: