What is ET and What Does it Have to Do with My Lawn Sprinkler System?
E.T. stands for evapotranspiration. That is a mouthful huh? Evapotranspiration is defined by the United States Geological Survey (USGS) as "the sum of evaporation and transpiration." Essentially it is all the water lost from the ground surface and from the plants who pull the water back up from the ground through their roots.
Smart irrigation can utilize evapotranspiration data to better asses your lawn and landscapes need for water. How?
SMART Irrigation Gets Smarter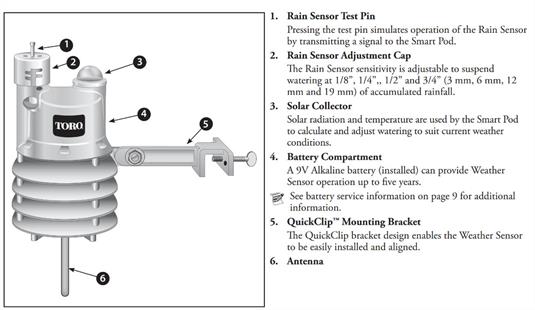 Start with our most popular and efficient irrigation controller, the Toro EVOLUTION® Controller. By itself, the EVOLUTION contains forty-years of historical weather data for your exact latitude and longitude. This information is used to assess whether your lawn needs to be watered and what the schedule for watering should be.
To make the EVOLUTION even more efficient, there are smart irrigation add-ons.
The Toro® Wireless ET Weather Sensor is where evapotranspiration comes in. The weather sensor detects all the variables in the atmosphere each day including evapotranspiration and sends the data back to your EVOLUTION controller. Each morning your controller reassesses the watering schedule and updates it for the precise needs, now based on current weather and historical data. This *custom watering schedule is updated each and every day* with new information gathered by the ET Weather Sensor. It will override the previously determined schedule to make sure you don't over or under-water your lawn.
Custom Irrigation Schedule
To give you an example of how the evapotranspiration data helps you, imagine this: Your EVOLUTION controller is set to water your lawn at 6:00 am on Friday morning for 20 minutes. But, on Thursday, the weather sensor detects a shift in the atmosphere that allows it to asses that less water is needed due to increased humidity, impending rain, and other factors. The weather sensor sends the weather data to the controller, which uses that data combined with historical data to determine that five minutes per zone will be sufficient. WOW
This saves you a ton of water and it saves you from over-watering your lawn – which can be detrimental to its lush and healthy existence.
If you're interested in upgrading your sprinkler system to smart irrigation, including weather sensors and a smart controller, call Conserva Irrigation of North Houston today.
Posted By
Conserva Irrigation
Categories: