The Best Time For Irrigating Your Spring Texas Property
What Time of Day Should I Water My Lawn?
By installing our highly efficient lawn irrigation systems, you have already taken a huge leap in the direction of water conservation. While this is an amazing feat, the effort towards water conservation does not stop there. Many of our customers have asked us some questions about how to further conserve water now that they have installed an efficient irrigation system. The most common question is when is the best time to water the lawn, but there are some other tips we have to keep your yard lush while keeping water uses low.
What Time is the Best Time to Turn on My Sprinkler System?
Watering your lawn both efficiently and effectively is the perfect lawn combination. The most effective time of day to use your sprinkler system in the early morning, and here is why. The longer you wait to water your grass, the hotter it gets, which leads to losing water to evaporation from the heat. This takes away from your grass, but then to make up for it you would need to use more water, and this would then defeat the purpose of trying to conserve water.
Watering at night is a bad recipe for diseases and fungi in your grass. When you water at night, your grass will stay damp until the morning, opening the door for unwanted growths. By activating your sprinkler system in the early morning the ground will be able to absorb the largest percentage of water you put out.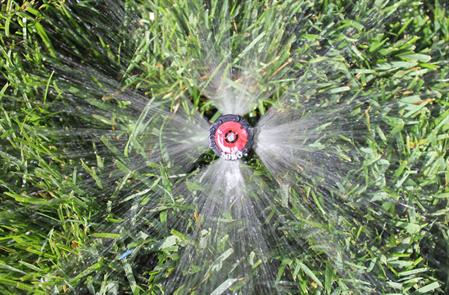 The best time span for using your sprinkler system is between 4 AM and 10 AM,which is beneficial to anyone living in The Woodlands due to the water usage regulations currently in effect. Odd addresses 8pm-6am Friday-Saturday or Tuesday-Wednesday even addresses 8 pm Saturday-Sunday or Wednesday-Thursday. For those in The Woodlands, it's $50 second offense, $100 the third time, and $200 every offense after that so water in the early hours.
Use Your Sprinkler System Wisely: Avoid Overwatering
Our SMART sprinkler systems are a wonderful addition to your home, but while they are very water conservative be careful not to over water the grass. It is unhealthy for the grass to get an excess of water, and grass does not need as much water as one would think. When we install your system we will program your sprinklers based on what plants, soil type, and sunshine received daily,but remember to exercise wise use of water when watering your lawn and plants.
If you're interested in a custom irrigation schedule for your sprinkler system, call Conserva Irrigation of North Houston today at (281) 843-8465. We look forward to hearing from you.
Posted By
Conserva Irrigation
Categories: