So What Is "Smart Irrigation," Anyway?
If you're in the Spring TX irrigation system market, you're probably shopping around and doing a bit of research before you decide to install or upgrade your sprinkler system. And you've probably seen the term "smart irrigation" a few times, but what does it mean, exactly? As the leaders in smart irrigation, one of our goals is to educate people on what we do and why it's important. So let's break it down.
You likely know that the majority of the earth's surface is water. (70%, in fact.) But most people don't realize that 97% of that is undrinkable water. Of the remaining 3%, only 1% is drinkable, because the rest is frozen in glaciers. Only 1% of earth's water being usable makes it a very finite, and valuable resource.
With over a decade of experience in the irrigation industry under their belts, our founders recognized this and figured that there had to be a way to use less water while still maintaining a healthy lawn. Thus, in 2010, Conserva Irrigation was born, the first irrigation company solely focused on environmental responsibility and water conservation.
In teaming up with Toro® Irrigation, the leader in irrigation parts and accessories for over a hundred years, Conserva offers only the most innovative irrigation technology to our customers. Two key components of our smart irrigation toolkit are the Toro EVOLUTION® controller and the ET Weather Sensor. Each piece of technology has its own purpose, yet they work in tandem with each other.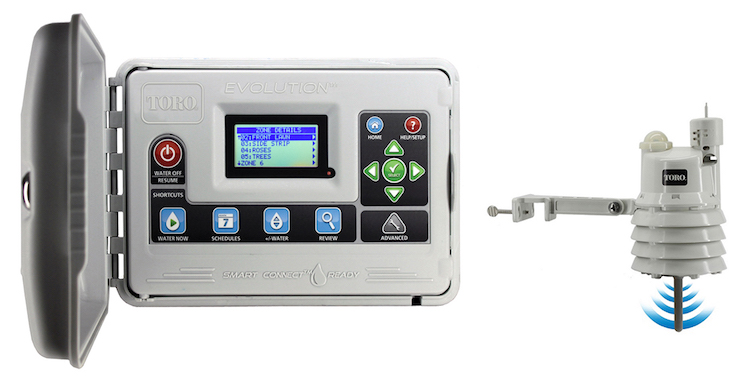 Smart irrigation figures out your lawn's watering needs.
The Toro EVOLUTION® controller, the "hub" of your irrigation system, stores 50 years' worth of weather data for your exact latitude and longitude, along with specific information about your sprinkler system and characteristics about your lawn such as sun exposure, shade, slope of the landscaping, type of soil, plant materials, and more. An optional Smart Connect® device plugs into the timing mechanism, enabling it to wirelessly communicate directly with a number of add-on devices—including a highly-intelligent weather sensor.
The Toro ET weather sensor, designed exclusively for your Toro EVOLUTION Series controller, detects live temperature, rainfall, and solar measurements, and transmits that information to your EVOLUTION controller. The controller combines these constantly-changing variables with the historical weather data for your location (mentioned above) to continuously monitor and adjust the amount of water needed from the irrigation system. The result is a personal irrigation prescription for your lawn that only waters when it's really needed, and uses the exact amount it needs. No more, no less.
Compared with a "traditional" irrigation system, with a rigid schedule that will water regardless of whether the weather includes rain, a flood, higher humidity than usual, or any other factors other than a "nice day" and you're looking at thousands of gallons of water saved, all while maintaining a lush green lawn, and saving lots of money on your water bill.
So how "smart" can your Spring TX irrigation system get?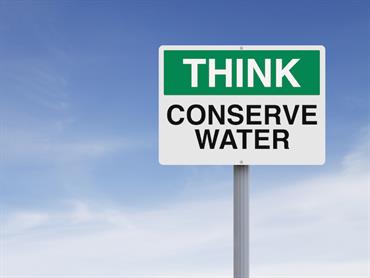 These days, many of us use things like low-flow toilets and water efficient dishwashers in our homes, thinking that we're doing our part to responsibly conserve water. While every little bit counts, most people don't realize that their indoor water use is minuscule compared to their outdoor water usage. In fact, 59% of your household's water use is for irrigation.
Think of it this way: On average we use about 100 gallons of water per day inside our homes. But a 7-zone irrigation system uses approximately 2500 gallons of water each time the system runs.
With a smart irrigation system by Conserva, your water usage will reduce between 40-60%, and will pay for itself in just one year. Meaning, if you spend $400 on an EVOLUTION controller, you'll be saving approximately 80,000 gallons of water and around $400 on your water bill in the first year of owning it. A high-efficiency dishwasher that costs about $500, by contrast, will save only about 1240 gallons of water, giving you around $6 in savings in the first year. Meaning the return on investment for your dishwasher will take nearly 80 years to break even! Investing in a Spring TX irrigation system from Conserva is one of the smartest things you could do!
Call Conserva Irrigation of North Houston today at (281) 843-8465 to start your path to smart irrigation, and for all of your irrigation and sprinkler system needs. We look forward to hearing from you!
Posted By
Conserva Irrigation
Categories: